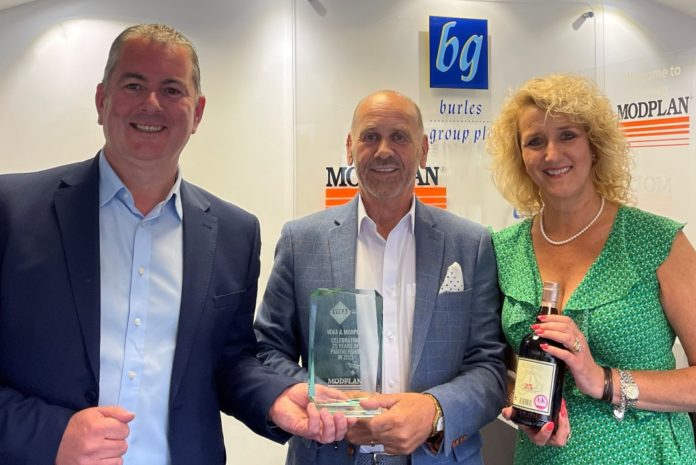 Modplan is celebrating 25 years as a Veka UK fabricator. To mark the anniversary, Neil Evans, Veka UK's managing director presented both Heidi Sachs and David Burles, founder and codirectors of Modplan, with a commemorative plaque and an engraved bottle of 25-year-old single malt Scotch whisky.
Heidi Sachs, Modplan's managing director, said: "As a business we're committed to keeping our finger on the pulse and delivering the value-added products our customers need to grow their businesses. Veka UK's products have consistently been at the forefront of window and door system design and we're delighted to be celebrating 25 years with them."
Neil Evans, Veka's managing director, added: "David and Heidi have built Modplan into an incredibly successful business that remains full of ambition. We are delighted to have been by their side for 25 years and will continue to work hard to support them in the years ahead."
Modplan is a Veka-approved fabricator and manufactures a range of products that includes casement windows, tilt and turn windows, flush sash windows, single and double residential doors, patio doors, bi-fold doors and composite doors. Veka has been developing PVC-U window systems globally for over 50 years, through design, innovation and customer focus. The business is the world's largest manufacturer of extruded PVC-U products.
The anniversary comes at an exciting phase in the history of Modplan, which also manufactures a comprehensive range of conservatory roof solutions alongside its Veka product range. The company has made several strategic investments that have assured outstanding product quality, further improved manufacturing efficiencies and brought total manufacturing space to 165,000ft² across six facilities at its Newport, south Wales, headquarters. The investments have opened up new opportunities and provided additional capacity to support the company's long-term growth efforts.
Heidi concluded: "It's vital for businesses to understand their market and deliver what their customers need. Sometimes that means switching suppliers and at other times, there's no need because you recognise that you already have the best solution in your portfolio. This is the situation that Modplan has consistently found itself in for the past 25 years. It's a long-term, successful partnership where the biggest beneficiaries are Modplan's customers."