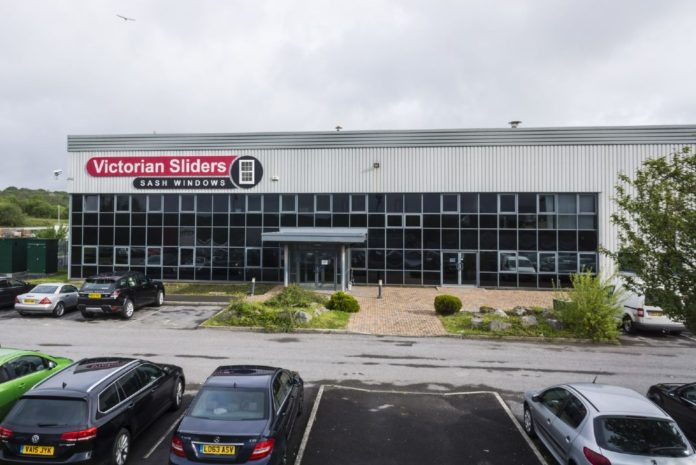 Europe's biggest sash window manufacturer, Victorian Sliders, will create even more jobs after receiving £14m in investment from the Business Growth Fund (BGF) for a 31% share in the south Wales firm. Founded 16 years ago by CEO Scot Starkey, Victorian Sliders claims to be unique in the sector, for its ability to extrude its own profile and make its own glass units and hardware, manufacturing thousands of energy-efficient Eco Slide sash windows every week.
Over the last few years, Victorian Sliders has reported huge growth, driven by soaring demand for its stylish, eco-friendly and practical sash windows, it says. It is expecting to deliver over £30m turnover this year.
The BGF's significant investment from will enable the company to double production capacity and further invest in its recycling plant, as well as create dozens of new jobs. "We're delighted to have secured this investment from BGF, while also benefiting from BGF's unparalleled business expertise," said Scot Starkey. "This investment will enable us to grow faster, support our customers even better and expand our existing team of highly skilled and dedicated employees."
Edwin Davies, a BGF investor who has joined Victorian Sliders' board, said: "It's a great time to work with an ambitious business such as Victorian Sliders. The company has an impressive product range and some very exciting growth plans, which we are looking forward to helping them deliver.
"We're particularly excited about investing in a Welsh manufacturing business, as the country is home to many of the UK's most ambitious companies. Through the provision of equity investment and our board support, we're sure that Victorian Sliders is destined for an exciting future."
Mark Huxtable has also joined the Victorian Sliders board at completion, as non-executive chair. Mark has significant experience in manufacturing through his 30-year career at the ventilation and heating company, Nuaire.