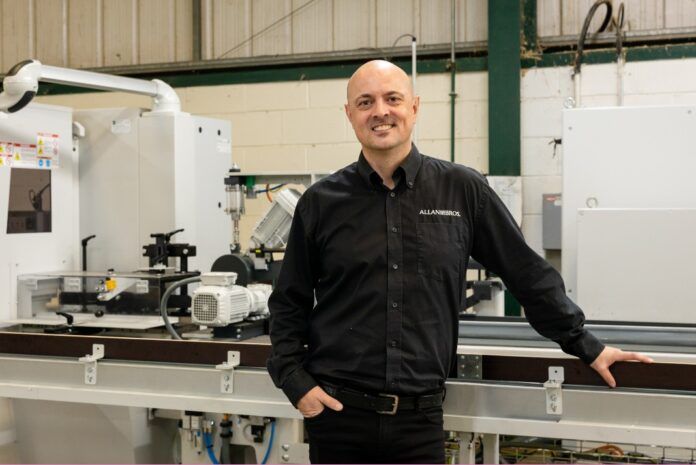 Leaders of Inwido, the parent company of the joinery business Allan Brothers, are investing £2.6m into manufacturing processes. Thanks to the investment, the Allan Brothers factory in Berwick-upon-Tweed is to benefit from a new timber shed, platform and upgrades including new manufacturing equipment.
One of the machines bound for the timber window and door manufacturing team is a new £2.1m CNC window line. New cutting and moulding lines are also promised, as well as improvements to the assembly shop with new conveyors, roller tables and ancillary equipment. The first of the new machinery is due to arrive in Q4 of 2023.
"This is the company's biggest investment in the last 15 years, which aims to deliver between 20 and 25% growth for the company over the next three years," said Morten Bach Valsted, the firm's managing director. "It will make a massive difference to our output and speed of production, as well as making us a much more energy-efficient and sustainable manufacturer of timber windows and doors."
The planned upgrades will be phased in over a six-month time frame. Existing manufacturing processes are to be gradually migrated, to avoid disruption and loss of production.
Morten added: "We have for some time been making improvements across the whole company, from streamlining back-office sales and purchasing through to the factory floor and dispatch, including the recent introduction of a brand-new customer showroom. This latest investment is a logical next step designed to deliver greater growth and profitability, better service for customers and ultimately better job prospects and security for our workforce."
Founded in 1811, Allan Brothers has 93 staff. The company was voted by customers as 'Joinery Product Supplier of the Year' in the 2022 Timber Trades Journal Awards. For more information about the business, call 01289 334 600, email enquiries@allanbrothers.co.uk or visit allanbrothers.co.uk.