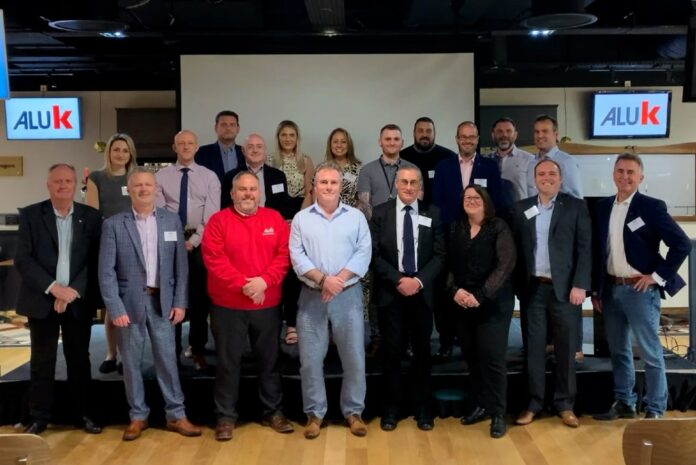 AluK hosted a customer forum at Villa Park stadium, designed to clarify the upcoming changes to Part L of the UK building regulations. The aluminium systems company has based its response to the tougher U-values required on quality engineering and on enhancing its products. The business wants its customers to have absolute reassurance that its products will comply on both windows and doors using double rather than triple glazing.
At the Forum, the company's managing director, Michael Williams, reaffirmed AluK's commitment to offering not just the new and improved products but also clear and simple guidance on the rules, and expert advice on everything from glass options to likely policing and penalties. The 60+ customers who attended were shown samples of the new 58BW HI window system and given updates on availability, lead times, pricing and LogiKal software updates for the entire range.
David Evans, AluK's head of technical services, demonstrated how the new profile references as well as the new foam and thermal breaks have been added into LogiKal, and showed customers how they can generate the U-value reports they need to show compliance from within the software. Darren Burford, training manager, also announced a new, free workshop available at the AluK Academy for customers to get fully up to speed, and video content that AluK fabricators can pass to their installers.
Michael said: "Our primary role as a systems house is to help our customers succeed, while at the same time acknowledging the responsibility we have as a global business to be proactive in our carbon reduction efforts. We were determined from the outset not to fudge compliance on Part L as some seem to be doing, but to lead the way on the journey towards Future Homes in 2025.
"Senior members of the AluK sit on committees at the GGF, CAB and CWCT, so we are right at the heart of the discussion on how the building regs are changing. We promised to keep our customers informed every step of the way and this was our fourth Customer Forum since March. We've also created lots of online content for customers to access via dedicated pages on our learning platform and our sales teams will be having lots of face-to-face discussions with customers in the coming weeks." AluK's online guide to Part L is accessible online at alukgb.com/learning/fhs.