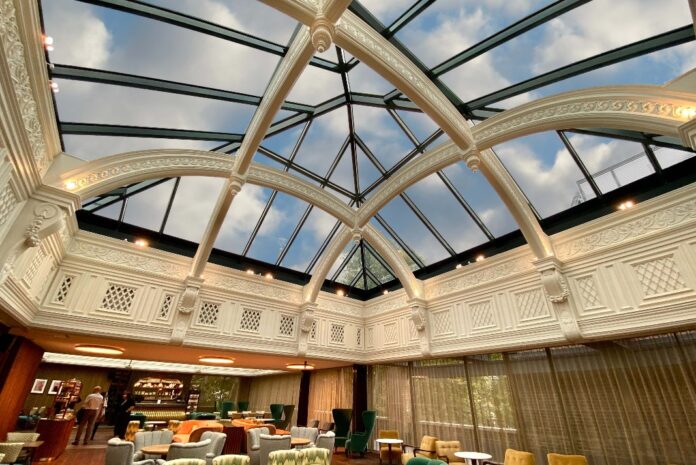 The London headquarters of the British Academy Film Awards (Bafta), 195 Piccadilly, has officially reopened after a 7-year renovation that showcases high-tech glazing. Eyrise dynamic liquid crystal glazing has allowed the iconic, Grade-II listed building to achieve an improved energy performance certificate (EPC) of B, bringing it in line with UK new-build standards.
Bafta partnered with glass specialist Eyrise to provide instant solar shading for a newly created fourth floor. A key part of the project saw 82 liquid crystal windows installed to glaze two restored Victorian rooflights. The windows were of varying shapes and sizes, and were specially produced for the project.
Proprietary Licrivision liquid crystal technology enables Eyrise glass to be tinted, to provide instant solar shading without compromising on natural daylight. The windows provide lightwellness – visual comfort, thermal regulation and colour neutrality – while also helping to reduce energy consumption.
"Bafta has successfully delivered a relevant and exciting refurbishment that is not only aesthetically exquisite but future-focused," said Celine Glipa, CEO of Eyrise. "While traditional glazing has historically lowered a building's energy efficiency, implementing the latest developments in glass technology has helped this world-leading arts charity reduce its ecological footprint and create a sustainable centre of excellence for the stars of tomorrow."
The rooflights at 195 Piccadilly had been hidden since 1976, when they were covered to create a dark space for a 227-seat cinema. Explaining more about the project. Pauline Campbell, Bafta's head of property, said: "Our Victorian heritage building had old technology, and original features which leaked heat, giving us a high EPC rating. Putting in a fully glazed roof was a challenge if we wanted to concentrate on sustainability.
"The new rooflight structures developed by Eyrise can automatically adjust the shading of the glazing to reduce solar gain, resulting in a lower cooling requirement. This is controlled so that the solar gain can be limited when not needed but can also be actively allowed to heat the space, when heating is required. Working the Eyrise glazing into our project ensured a UK EPC rating of B48, which is comparative to a new build, something that would never have been possible without the technology."
Charissa King, editor of Glass and Glazing Products magazine, attended the press opening of the renovated Bafta building on 12 April, meeting the glazing experts behind the feature rooflights. She said: "It was incredible to witness this building's relaunch, after GGP's first report on the project last year. The drama created by looking up at the automatically controlled roof glazing well befitted the home of British film artistry.
"At the launch event, I was told of how the glazing had been programmed against maps of the sky above, enabling it automatically adjust for the amount of light generated at different times of day for that particular skyscape. The solar shading can also be adjusted remotely, at the touch of a button, as was demonstrated at the event.
"From the terraces outside, I saw how dark the glass appeared, while remaining perfectly bright to occupants from the inside. The original plaster below was remodelled and restored beautifully, and the roof structure had been rebuilt and strengthened too.
"The level of detail and technology that has gone into this glass innovation is truly exciting for the future of the built environment sector. One speaker suggested the implications of such glass technology for environments like the UAE, where temperatures can reach up to 40C during the day and fall to -2C at night. It doesn't feel like a stretch to say that in such environments, Eyrise technology could revolutionise the property landscape, bringing previously uninhabitable buildings back into use. The Bafta building is Eyrise's first UK application. I'm sure it won't be the last."
Benedetti Architects designed redeveloped Bafta building. Known as the Richard Attenborough Rooms, the new floor provides a members' area and space for exhibitions and events.
The major renovation works have enhanced facilities and doubled the building's capacity, enabling Bafta to increase its charitable programme. Bafta works to support and promote the next generation of performers and break down barriers that make it hard for talented individuals to build careers in the creative industries. Built in 1883, 195 Piccadilly has served as Bafta's headquarters since 1976.