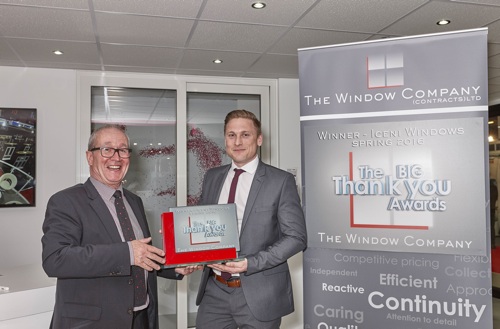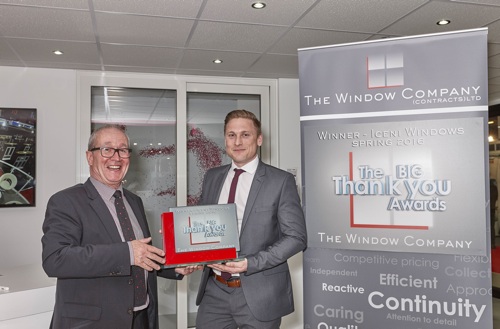 Iceni Windows has been named as the first ever winner of The Window Company (Contracts)' brand new Big Thank You award.
Company chairman, David Thornton, presented the award for the first quarter of 2016 to managing director, Paul Foyle, from Iceni Windows on the Rehau stand at The FIT Show.
Iceni was selected by the team at The Window Company (Contracts) because it had delivered service which was judged to be 'exceptional'. When the G-15 Installer of the Year was let down by a different supplier on a new build contract earlier this year, Iceni Windows stepped in and put on a night shift specifically to produce the frames required in Rehau Total70.
David Thornton said: "Lots of our top quality suppliers were in the running for this very special first award, but Iceni really did go beyond expectations on this project and that is what clinched it. They responded at short notice and solved what was potentially a real problem for us, and we really appreciated that extra effort.
"When we launched the award scheme, we said that it would be all about recognising the contribution which our suppliers are making to our ongoing success and on this project that was exactly what Iceni did. They made sure that we didn't let down our customer and helped us to maintain the reputation for service and efficiency which we've work so hard to achieve.
"The FIT show seemed a 'fitting' place to present the award to Iceni because it's where the very best that our industry has to offer is on display."
As part of its Big Thank You awards, The Window Company (Contracts) has been monitoring the performance of all its suppliers since January 1 and assessing them against a list of criteria which includes service, delivery, efficiency and communication.
They will be presenting an award every quarter to the supplier which has performed the best during that period and an overall winner will be announced at the end of the year.