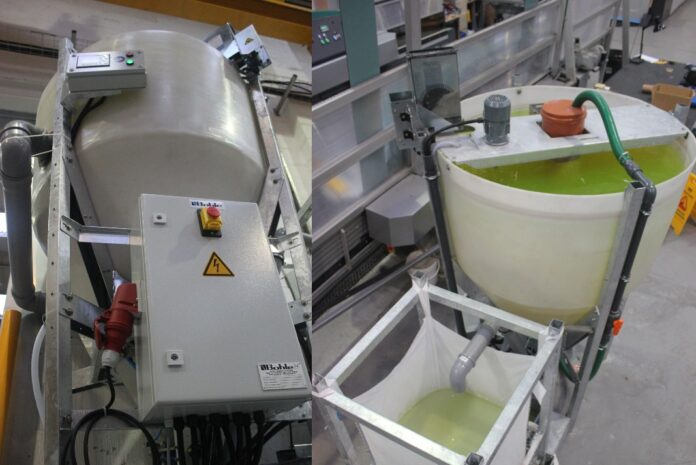 Glass processing specialist, Bohle, is offering a free 60 to 90-day trial of its sedimentor, a machine that it claims represents a practical and effective way of achieving more sustainable manufacturing processes. The machine reportedly eliminates wastewater, extends tool life and reduces energy costs.
Suitable for a wide range of grinding, drilling and sawing glass equipment, sedimentors use a sophisticated and automated multi-stage process to remove contaminants from coolants and water. Dave Broxton, Bohle's managing director, said: "Using clean water, especially when it is combined with coolant, means that glass processors can improve the performance of their machinery by as much as 20% and the service life of tools by up to 30%.
"However, there is a cost associated to keeping water clean. If you're using 400 litres in a weekly cleaning cycle, that adds up to around 20,000-litres a year. You're paying to use that water, and also to dispose of it.
"A Bohle sedimentor can filter glass particles as small as 5 microns, which is 14 times smaller than the width of a human hair, and it uses minimal energy to do so," he continued. "By including a sedimentor in a production line, glass processors are not only better equipped to eliminate waste water, they can recycle and reuse valuable water over and over again."
In addition to recycling water, reducing energy usage and introducing greater manufacturing efficiencies, sedimentors can also save processors thousands of pounds a year in downtime, by reducing the maintenance requirement to clean machinery and water tanks or replace tooling – increasing manufacturing capacity by as much as 15%. For glass companies that are looking to operate more sustainably, a sedimentor is a very attractive solution. It's also a very cost-effective investment.
"Processors that take advantage of our free trial offer, which is subject to availability, will see the benefits even after a relatively short period of time, but our modelling shows that this is a machine that can pay for itself in as little as 12 months." For more about Bohle's product and service offer, visit bohle.com, email info@bohle.ltd.uk or call the customer services team, for free, on 0800 616 151.