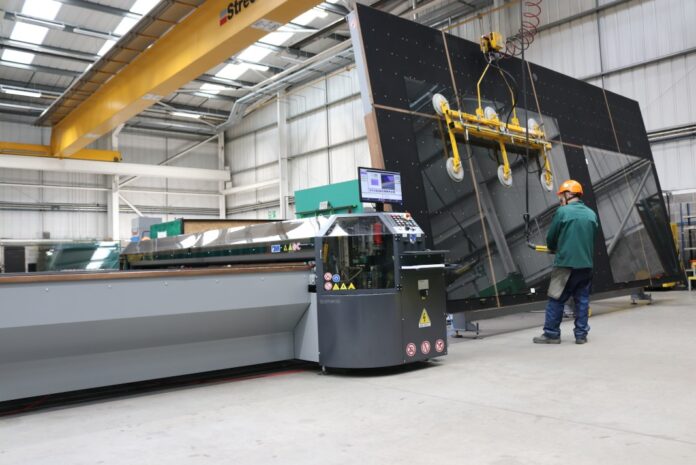 Mackenzie Glass has increased its capacity to offer cut-to-size product with a six-figure investment in a new, automatic Boterro cutting line and table. The capability will include a new Bottero 630CBM-R automatic loading machine, a Bottero 343BCS-R automatic float glass cutting table and a Bottero 103BBM-R air floatation breakout table.
"Supply pressure and exponential growth in demand has meant float glass manufacturers have moved away from the supply of cut-to-size product," explained Mark Herbert, joint managing director of Mackenzie Glass. "At the same time, a lot of processors don't have the cranes and the capacity to handle jumbo sheets. Combined, it's created increased demand for cut-to-size product. While we have a pre-existing capability, we wanted to increase our capacity to meet future demand, because we believe that those changes are here to stay."
With more than 200 glass types in stock, as well as being Pilkington's first regional partner, Mackenzie Glass offers product from stock from Saint Gobain, Guardian and AGC, plus specialist suppliers around the globe, supplying more than one million square metres of flat glass a year. Its purchase of a new Bottero cutting line represents the largest and latest in a series of investments. This includes the addition of a new Sagertec horizontal washing machine to its toughening line, plus Adelio Lattuada Gamma straight-line bevelling machine and Delta M4 C Radius corner machine in June 2021.
The investments were preceded by the delivery of a state-of-the-art Bottero 515LAMe laminated glass cutting table in July 2020. Running across two shifts, 24 hours a day, has allowed Mackenzie Glass to reduce delivery times to as little as three days.
Mark continued: "The role of the merchant in splitting jumbos and half jumbos into more manageable sizes is growing. Being able to do that faster, more efficiently and with less wastage is going to be very important to us, and our customers, as we move forward in what we expect to be another very busy year."