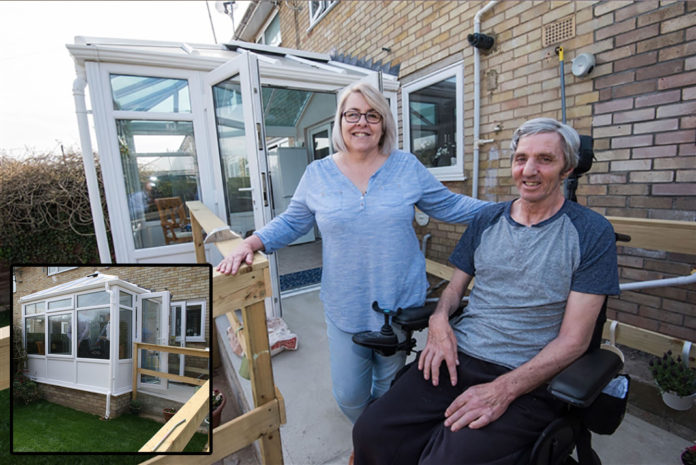 Frames Conservatories Direct (FCD), based in Bury St Edmunds, has completed a conservatory for a local caretaker who was left partially paralysed after a devastating fall.
MD and owner of FCD, Adrian Lewis, contacted Colin White and his wife Jo to offer assistance after reading their story in the local paper.
Adrian said: "I saw that the family were hoping the community would help them in some way to build a conservatory at the back of their home. It would mean that Colin, who suffered spinal cord damage to his neck after a fall down the stairs, could look out onto his garden again. A fundraising campaign was started for the work with donations from generous individuals and companies across the region.
"We wanted to ensure the conservatory was built as quickly and cost-effectively as possible – without compromising on quality. We were proud to give all our time free of charge. We also approached our suppliers for help with the cost of materials, and our fabricator partner The Glazerite UK Group was incredibly supportive," Adrian continued.
"We've been a Glazerite customer for five years and the team really came through for us here; donating product worth over £1,500! Glazerite supplied the conservatory frame and windows and, as always, we were able to provide Independent Network's Ten Year insurance backed guarantee on the product and installation, because Glazerite is also an IN member."
Glazerite's Group managing director, Jason Thompson, said: "It's always a pleasure to work with the FCD team, because our companies share the same commitment to quality, service and craftsmanship. This job was particularly important and rewarding, given the circumstances."