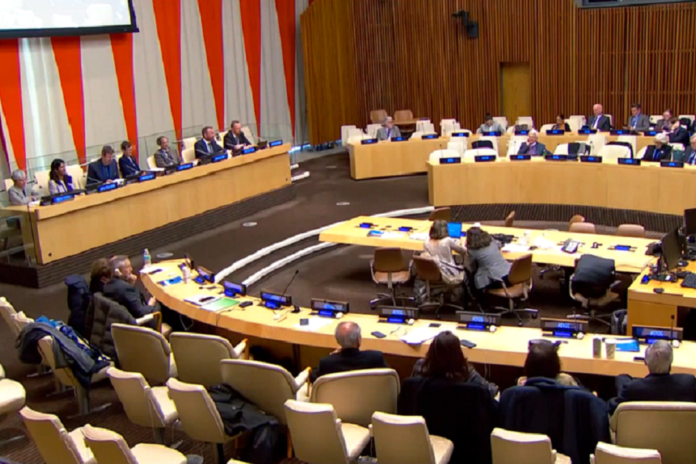 The closing ceremony of the International Year of Glass (IYOG) took place last Wednesday (14 December) at the UN headquarters in New York. During the ceremony, which was also streamed online, leaders reflected on the IYOG's successes and the many benefits of glass. Speakers touched on subjects such as sustainability and how glass can positively impact health through the use of protective glazing and medical glass. The event was made freely available to watch on demand.
Fernando Valladares, a research professor at the Spanish national research council CSIC, was the first to speak at the IYOG closing ceremony. As part of his address, he said: "Humanity would not be what it is without glass," explaining that the IYOG represented an historic opportunity to reflect on its uses and the fact that glass can be repeatedly recycled.
John M Parker, emeritus professor of glass science and engineering, spoke about the book created especially for the IYOG titled Welcome to the Glass Age. Published by CSIC and targeted at the younger generation, the book collates the contributions of 14 authors from 10 different countries. John explained that since the publication of Welcome to the Glass Age at the start of the year, at least five more glass-focussed books have been published within the IYOG.
The IYOG has supported over 100 conferences and individual lectures, John went on to say, including a presenters and audiences of all ages and backgrounds. The IYOG has also financed 86 projects.
Later during the ceremony, a panel of three people – Himanshu Jain, director of the Institute for Functional Materials and Devices at Lehigh University; Erik Muijsenberg, vice president of Glass Service, and Bertrand Cazes, secretary general of Glass for Europe – focused on the industrial side of glass, including its role in sustainable fuels and energy.
Towards the end of the event, Urmilla Jokhu-Sowell, technical and advocacy director for the National Glass Association spoke about the health benefits of glass, including protective glazing and biophilic design, which allows a connection to nature whilst being indoors. Another speaker explained how glass has played a crucial part in the roll out of Covid-19 vaccines.