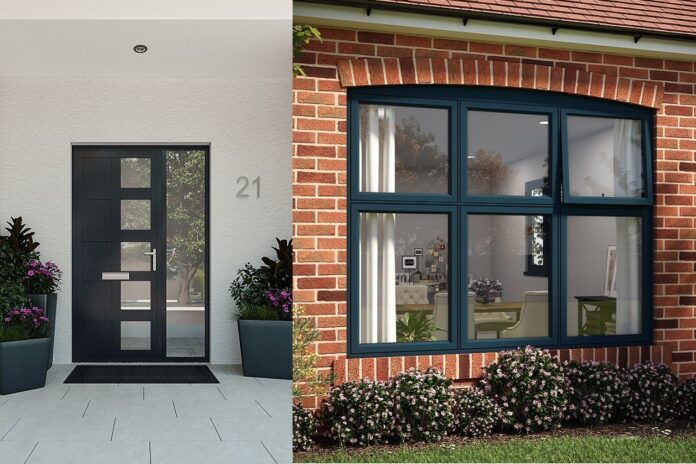 Leaders of AluK are to launch a Part-L-compliant version of the firm's 58BD residential door system. New foam inserts are to deliver the 1.4 U-values required, and the product is to include pre-rolled foam in the sash as well as additional insulating foams underneath the glazing cavity and in the centre seals, for customers to fit during fabrication. Brand-new material is to be used for the low- lambda thermal break, to deliver 'enhanced thermal performance', AluK's representatives have said.
The AluK team is continuing its efforts to help customers comply with the new Part L rules as simply and cost effectively as possible, according to representatives of the aluminium systems house. "All of our product development around Part L has centred around achieving compliance, but always with the needs of the fabricator firmly paramount," said Peter Willard, AluK's product manager. "That's why we are minimising the additional processes required for the new 58BD HI door and delivering a solution which achieves real innovation with a new thermal break. The material we're using is new to the doors and windows market but widely proven in other sectors so it's a no risk option."
Alongside the launch of the 58BD HI, AluK is also delivering another enhancement to its Part-L-compliant 58BW HI window system. Leaders of the business are to launch a new bracket for the cruciform joint which they say fits more easily into the cavity created by the thermal break.
"We're on this Part L journey with our customers, so when they told us the cruciform bracket was taking longer to fit because of the upgraded polyamide in the system cavity, we responded straight away," Peter added. "We've run a pilot to make sure this new bracket minimises any additional time on fitting and does everything they need. The feedback has been very good."
AluK's 'fabricator-focused approach' to Part L helped it to win the G22 Customer Care Initiative of the Year award last year. The business has already changed the tolerances allowed in the U-value assessment methodology and introduced a value-engineered solution for the thermal foams in the 58BW product