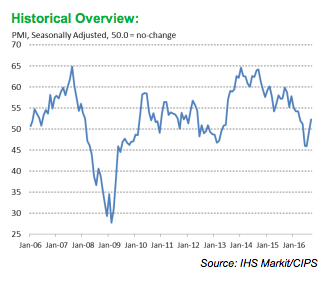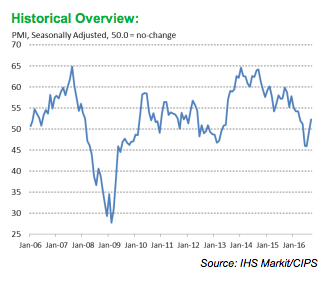 September data highlighted an upturn in business activity across the UK construction sector for the first time since May, primarily driven by a recovery in residential building.
New orders also rebounded during September, which ended a four-month period of sustained decline.
Survey respondents cited improving confidence among clients and a reduced drag on demand from Brexit-related uncertainty. Reflecting this, construction firms indicated a further recovery in their business expectations for the next 12 months, with optimism the strongest since May. Just under half of the survey panel (45%) forecast a rise in output over the year ahead, while only 9% anticipate a reduction. However, the degree of confidence remained softer than that seen at the start of 2016.
Adjusted for seasonal influences, the Markit/CIPS UK Construction Purchasing Managers' Index (PMI) registered 52.3 in September, up from 49.2 in August and above the 50.0 no-change value for the first time in four months. The latest reading was well above July's seven-year low and indicated the fastest rise in construction output since March. The pace of expansion was nonetheless still softer than the long-run survey average (54.6).
A solid rebound in residential activity was reportedly the key factor boosting overall construction output during September. Moreover, the latest increase in housing activity was the strongest recorded since January. A number of firms cited resilient demand for residential building work and generally improving market conditions. Construction companies pointed to a renewed rise in civil engineering activity, with the pace of expansion the fastest since March.
Commercial construction activity decreased for the fourth month running, which is the longest period of sustained decline since early-2013. However, the latest fall was only modest and the slowest recorded since the downturn began in June. Higher levels of overall construction activity were supported by a rise in new work for the first time since April.
Anecdotal evidence suggested that signs of improving domestic economic conditions, and an upturn in housing-related demand in particular, had contributed to greater volumes of incoming new work in September. This in turn led to a further moderate rise in employment levels across the construction sector, although subcontractor usage continued to fall at one of the fastest rates since late 2013. Mirroring the positive trends seen for business activity and new work, latest survey data highlighted a return to rising input buying across the construction sector. Meanwhile, construction companies indicated that supply chain pressures eased in September, with the latest deterioration in vendor performance the least marked for almost six years.
There were again widespread reports that exchange rate depreciation had pushed up the cost of construction materials during September. A number of survey respondents noted that domestic suppliers had sought to pass on higher imported raw material costs. Although easing since August, the rate of input price inflation was close to the highest for two years.
Tim Moore, senior economist at IHS Markit and author of the Markit/CIPS Construction PMI, said: "UK construction companies moved back into expansion mode during September, led by a swift recovery in residential building from the three-and a-half year low recorded in June.
"Resilient housing market conditions and a renewed upturn in civil engineering activity helped to drive an overall improvement in construction output volumes for the first time since the EU referendum.
"A number of survey respondents noted that Brexit related anxiety has receded among clients, although it remained a factor behind the ongoing decline in commercial building work.
"Construction firms appear reasonably optimistic about the near-term outlook, with confidence linked to the fastest rise in new orders since March and a more upbeat economic newsflow in general. However, the sector remains on a much weaker growth trajectory than seen at the start of 2016, which contrasts with the export-led surge in manufacturing production during September.
"Not only are UK construction companies feeling the impact of subdued investment spending relative to earlier this year, but the weak pound has contributed to a sharp acceleration in cost inflation. There were again widespread reports that domestic suppliers had acted quickly to pass on higher imported raw material costs, despite softer demand conditions in recent months."
David Noble, group chief executive officer at the Chartered Institute of Procurement & Supply, said: "The residential sector was the winner this month, as consumer confidence made a modest recovery, post the EU referendum.
"Overall, the fastest rise in new orders for construction projects since April ended a four month decline, and purchasing activity was at its highest since March. But, though there were modest rises in staffing levels, these were at one of the weakest rates in the last three years.
"Supplier delivery times recovered at a moderate rate, as higher stocks of building materials were reported and business optimism improved, ending a 39-month low. But, the sector still faces challenges with continuing pressures on input prices resulting from the weaker pound and the lingering uncertainty of the Brexit process and how it will impact on future business."