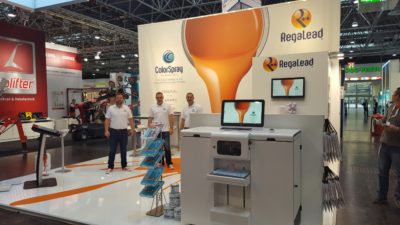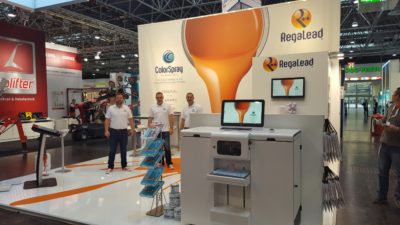 As the doors closed for another two years on the industry's largest glass show, RegaLead returned home from its most successful Glasstec exhibition yet, having joined 235 other exhibitors all keen to showcase their latest innovations to more than 40,000 visitors.
This year, the show for RegaLead was focused solely on its ColorSpray specialist coatings division for the glass and fenestration markets and saw the launch of new paint formulations and dispensing and drying solutions.
Describing the show as an unprecedented success, Guy Hubble, managing director commented: "This year, our presence at Glasstec was all about paint and represented the culmination of ongoing investment into the product and application development of coatings, mixing solutions, fast drying and automation for glass painting. Although not everyone knows it, coatings have been a core market for us for a long time, so with the addition of new coating solutions, Glasstec was the ideal platform to remind the market why we are one of the world's largest specialist glass coatings provider for the glass and fenestration industries.
"Visitors to our stand saw how we've broken down the glass painting process into its constituent parts and improved practices at each stage. There has been a lot of talk recently in the industry about automatic spraying, and Glasstec was awash with solutions, but our experience tells us that the best 'machinery' solutions to speed up production and improve lead times, revolve around colour preparation and drying systems as the spraying itself is relatively quick by hand.
"With most customers looking for multiple colour changes per day to accommodate the increased demand for unique colours, our range of auto-dispensers were of particular interest to many visitors. They offer high dispensing speeds and accuracy that's simply not possible by hand mixing. We have launched a range of three auto dispensers with varying output speeds and canister configurations to suit smaller producers, right up to super producers who need to automatically dispense base materials as well as the colorants. With over 7000 recipes already on our Color Formulator system, you would think that we had all colours covered, but we are still adding a rate of 50 per week, with formulations now being prepared in our own colour laboratory in Manchester in less than 72 hours.
"We were delighted to launch our partnership with Schuberts Finishing Systems at the show and Mark Schubert, their managing director, was with us on our stand throughout the week explain to explain to customers the benefits of their unique accelerated drying solutions for coatings on glass, PVC and GRP. Most interest surrounded the Shuburst Burst Fire infra-red drying system, which reduces curing time on water based paints by over 90%, freeing up the traditional process bottleneck and increasing manufacturing output.
"If you couldn't make it to Glasstec and want to see for yourself why ColorSpray is now used by more than 350 companies in 40 countries, call us to arrange a visit to our brand new UK paint, coating and application facility in Manchester. We'd be delighted to see you."