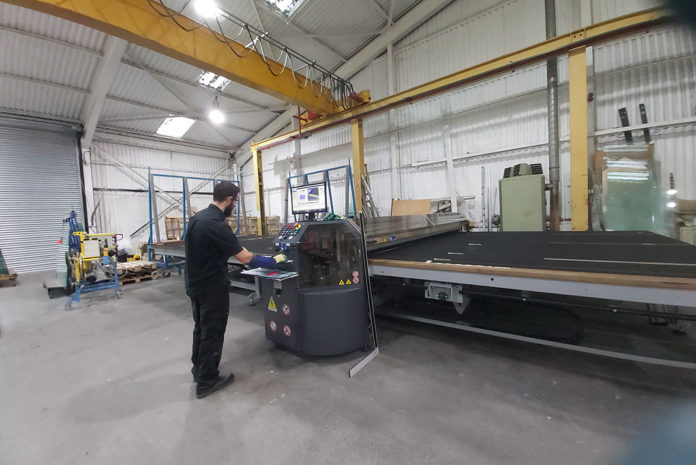 Cornwall Glass Manufacturing has committed to a six-figure investment in a new Bottero cutting table, as it gears up for increased demand for laminates in 2021.
Installed in St Austell in November, Cornwall Glass says that the new Bottero 520 LAM(e)/37, significantly increases its laminate capability in line with exponential growth in demand.
This includes a special adaptation of the cutting bridge to accommodate glass thicknesses of up to 20.8mm – believed to be unique in the UK.
Steve Bunney, general manager, Cornwall Glass Manufacturing, said: "We wanted the flexibility to cut laminates of up to 20.8mm thickness, which Bottero delivered through a special adaptation and structural reinforcement of the cutting bridge, its mechanical workings plus a software upgrade.
"It's a small incremental increase in glass thickness but when you're cutting a thicker sheet it's a significant increase in weight, cutting pressure and adjustment to heating time.
"We believe this configuration from Bottero is unique in the UK."
Capable of cutting sheets of up to 3.7m X 4.6m, with a heat up time of less than 90 seconds, plus automatic edge deletion, Steve added Cornwall Glass was able to offer new flexibility to its customers.
"There's been a major uplift in demand for laminates," he said. "It was a trend pre-COVID, and only accelerated by it, so having a high precision, high volume cutting capability is key.
"The new Bottero gives us a fifth laminate cutting table within the Group and increased capability as a whole. Automatic edge deletion on the new St Austell table also supports us in speeding up process and allows us to offer a better and more flexible service to our customers."
Demand for laminates is reported to have significantly in IGU supply in part driven by Secured by Design specifications as well as increased demand for acoustic products.
Cornwall Glass Manufacturing offers a range of processed glass products alongside high volume IGU fabrication, with two manufacturing facilities in Highbridge and Plymouth, in addition to St Austell.
Processing glass and manufacturing IGUs across all three sites, its Plymouth operation is specifically geared towards the manufacture of over-sized IGUs with its Bystronic line capable of handling units of up to 2.7m X 5m.
"The new capability that the Bottero gives us allows us to meet demand in a key growth area for the glass industry far more effectively. We can be faster, more precise, delivering a better quality product to the customer," Steve concluded.