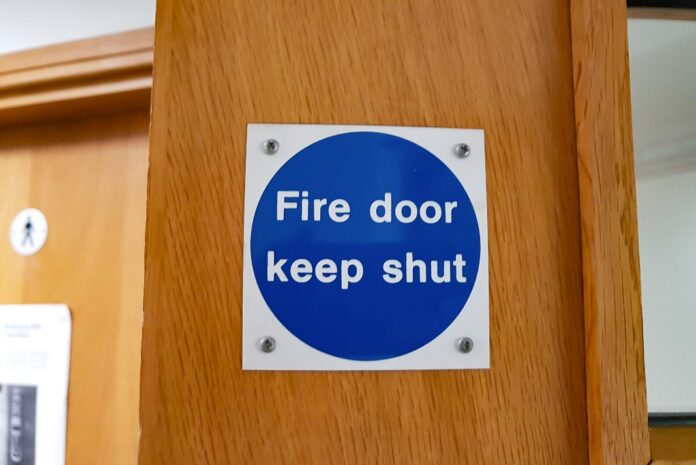 The Door and Hardware Federation (DHF) is once again supporting Fire Door Safety Week, a national safety awareness campaign that is due to take place from 19 to 25 September this year. The campaign aims to increase public understanding of the vital role that fire doors play in protecting life and property.
Patricia Sowsbery-Stevens, DHF's head of commercial operations, said: "We are a continuing supporter of passive fire protection and compartmentation which fire doorsets are a part, and are delighted to be supporting the objectives of Fire Door Safety Week once again. We continue to stress the vital role that fire doors play in saving lives and protecting property and encourage those in positions of responsibility to seek the correct training with regards to installation and maintenance.
"This is something DHF takes extremely seriously. Indeed, any site operatives who apply for a Blue Skilled worker CSCS card from DHF and who works on site installing, maintaining or inspecting fire doorsets must, in addition to their NVQ, have up-to-date training from BRE or similar as part of the criteria of application."
Fire Door Safety Week was first launched in 2013. It is managed by the British Woodworking Federation and is supported by the National Fire Chief's Council and London Fire Brigade.
This year's campaign follows new fire safety legislation and guidance announced in June, which specifies that cladding of the type used on Grenfell Tower is to be banned from use on any building in England. The Fire Safety Regulations (England) 2022 are set to come into effect on 23 January 2023. It is expected to ensure that flat entrance fire doors are subject to annual checks, and that those in the common parts of high-risk residential buildings receive quarterly checks.
Since the 2017 Grenfell Tower tragedy, DHF has been particularly proactive about fire door safety and promoting its fire door safety courses, which are held in collaboration with the BRE Academy. The DHF hosted three comprehensive, one-day, two-module training courses around fire door safety, inspection and ongoing maintenance.