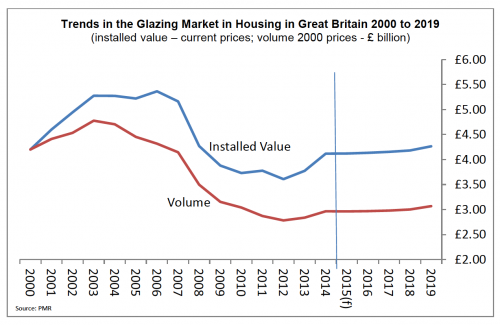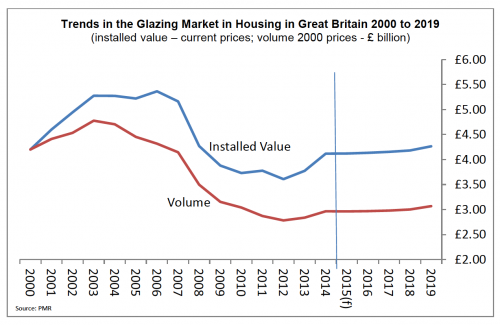 What a difference a year makes. In the previous 2014 report from Palmer Market Research (PMR) on the domestic window, door and conservatory market, buoyant growth in the sector was predicted through to 2018, with the market for that year forecast to be 20% bigger than in 2013.
However, 12 months on, the story is rather different. According to Robert Palmer, PMR's director: "We are significantly less optimistic than we were last year. Overall for the sector, very sluggish performance is forecast over the period to 2019." In the recently published 2015 report, Palmer predicts that from an installed value of £4.12 billion in 2014, the market will have grown by less than 5% by 2019.
So, what's happening? As the report reveals, in 2014 the market actually did grow, by (a not insubstantial) 4.5% in volume terms. Yet focus in a little closer, and we see three very different stories emerge.
The glazing market in the new housing sector rocketed by 23%, as housing starts moved to their highest level since 2007 and the move to detached houses
continued, with window installations growing to 1.37m units, the highest for seven years.
Over the next few years, a continued demand for new housing, offset by uncertainty around rising interest rates, planning delays and labour availability, leads Palmer to predict continuing but slowing growth in this sector.
But it's in home improvements where things seem to have stalled, and this is critical, since the sector represents nearly 80% of the total market. Palmer said: "In spite of a benign, improving economy, with strong GDP growth, glazing home improvements seem to have faltered."
Why is this? Palmer believes the slowdown in property transactions through 2014 and into the first part of 2015 – crucial since a significant percentage of home improvements are carried out soon after purchase, the current necessity of homeowners to continue paying back debt rather than extracting equity, and the issue of saturation in the critical window replacement market – which just gets worse, with over 91% of windows now replaced at least once, all contribute. The outcome is dramatic, with a GfK poll cited in the PMR report revealing ever-decreasing interest among homeowners in spending large sums on home improvements.
The social housing sector actually did rather better than expected, with the first volume and value growth in window sales for nine years. That said, government cost-saving initiatives, from the end of the Decent Homes programme to the likely reintroduction of Right to Buy, means the outlook is far from rosy, with the market forecast to contract every year to 2019.
One trend may offer some relief to those in the industry: apparently driven by the fashion for 'family room' type extensions, bi-fold doors and long-term underperformers conservatories (particularly orangeries), showed growth, both in the home improvement sector, and overall. Palmer predicts bi-fold doors to become the strongest performer among patio door types by 2019.
And surprisingly, for a product thought to be in long-term decline, the market for conservatories will increase. Incidence increased in both new build and home improvements in 2014, and the forecast is for 96,200 in 2019, way below peak years, but still 15% up on the 2014 figure.
However, the window market is forecast to contract over the years to 2019, and growth in entrance doors will be marginal at best.
PVC-U's overall market share continues to decrease, and is expected to reduce further, from 62% (by installed value) in 2014 to 58% in 2019, as composites, wood and aluminium (which is particularly suitable for bi-fold doors) grow their share.
The Window, Door and Conservatory Market in Housing in Great Britain, 2015 edition, was developed by carrying out 681 personal, structured, interviews with companies operating in the market, including housebuilders, manufacturers and housing associations, between March and June 2015. For full details, please visit www.palmermarketresearch.co.uk