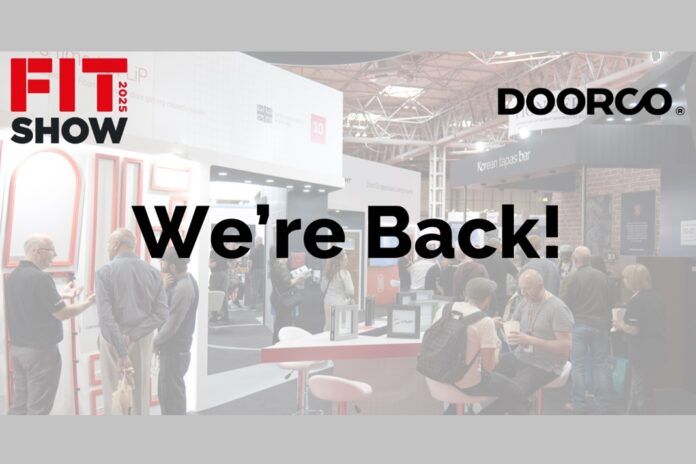 Leaders of DoorCo have announced that the composite door supplier will be represented at the next Fit Show trade exhibition, in 2025. The team is to be based at Stand H80 in Hall 9, and the firm is once again sponsoring the event.
"The DoorCo team will be back at Fit 25, bigger and better than ever before", said Ellie Pool, DoorCo's marketing manager. "After the success of our last event in 2022, it wasn't a hard decision to make to return.
"Fit offers a unique platform, as the only dedicated industry exhibition to provide companies with the opportunity to showcase their products and developments to a prequalified audience. We recognise the big investment required to attend exhibitions, so we'll be making the most of the opportunity with lots to engage our visitors, from new innovations to plenty of hospitality.
"Fit is a great opportunity to connect with our customers on many levels. Last time, we set a new precedent that we're determined to exceed.
"Personally, this will be my first Fit Show as an exhibitor. Earlier this year I visited the event and was impressed by the depth of innovation on display and the tangible atmosphere delivered, so I'm excited to be part of the next show.
"We are working closely with the Fit Show team to ensure that we, and our visitors, have the very best experience."
Nickie West, Fit Show's event director, added: "We're very excited to welcome DoorCo to the line up for Fit Show 2025. Doors remain the number one product that our visitors want to see, and the extensive range that DoorCo offers will perfectly complement the diverse offering of all products and materials at Fit Show in 2025.
"The DoorCo team is always extremely creative when it comes to their Fit Show campaign, both in the run up to and during the event. I can't wait to see what they've got planned!"
Ellie said: "We'll be bringing lots of innovation and entertainment to Fit Show 2025. We're looking forward to sharing more about our plans in the lead up to the show."
For more information about DoorCo, visit the company's website or call 01625 428 955. For coverage of DoorCo joining the Association of Composite Door Manufacturers earlier this year, see this link.