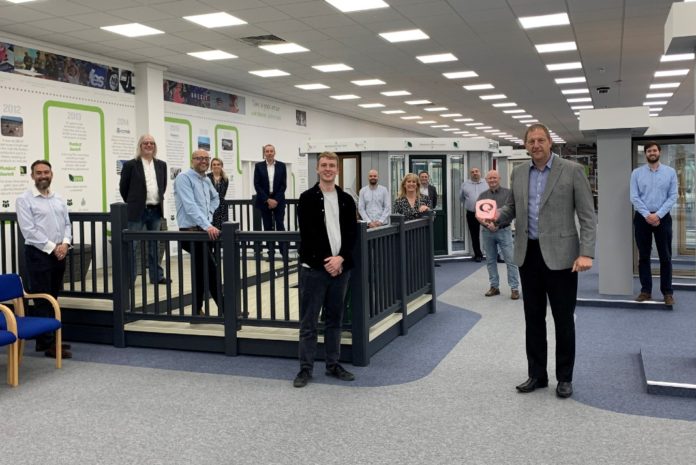 PVC-U systems manufacturer Liniar won in two categories of Quanex's Safety and Stakeholder Awards: the Safety Recognition category and the Hometown Award category. Liniar's parent company, Quanex Building Products, developed the annual awards scheme to recognise its global plants and team members that contribute to the group's success. This double win was announced in April, over a video link shared with all 3,800 Quanex employees.
Safety award
The Liniar and Avantek teams, located at Cotes Park in Alfreton, Derbyshire, were awarded Quanex' Safety Award, receiving a plaque to commemorate their hard work that ensured the site had no recordable incidents over one year. Of the teams, George Wilson, Quanex's CEO and president said: "As everyone knows, safety is the number one operational priority of everything we do at Quanex. Completing a full year without a single reportable incident – especially during one of the busiest years on record – is a truly amazing achievement. Well done to everyone at the Cotes Park facility!"
Hometown award
The Hometown Award was presented to the Quanex plant that the communities committee felt had done the most for its local community during 2020. Liniar had not only produced and donated thousands of protective visors to key workers during the pandemic (see our report on this, here), the business had also increased its focus on community activities in 2020, including fundraising for local charities and collecting items for foodbanks and toys for underprivileged children.
Martin Thurley, Liniar's group managing director said: "We've always had a strong focus on our local community. The pandemic made it more important than ever to help those less fortunate than ourselves. We're delighted to receive this award, and to share the good news with our team by way of a meal celebration, which we're now arranging."
The Hometown prize also came with a £1,000 donation from Quanex to a charity of Liniar's choice. The deserving recipient was chosen by Ollie Marriott, a design apprentice who had been instrumental in the creation and testing of the Liniar protective visors. Ollie chose Treetops Hospice, a local charity providing nursing care and emotional support for adults and their families.
Paul Cornett, Quanex's senior vice president – general counsel and secretary, awarded the prize, declaring: "Congratulations on winning the Quanex Hometown Award for 2020. We had some great nominees this year, but Liniar's commitment to the community in 2020 was unmatched – and this award was very well-deserved."
Discover more about Liniar's community focus at www.liniar.co.uk/about/csr.