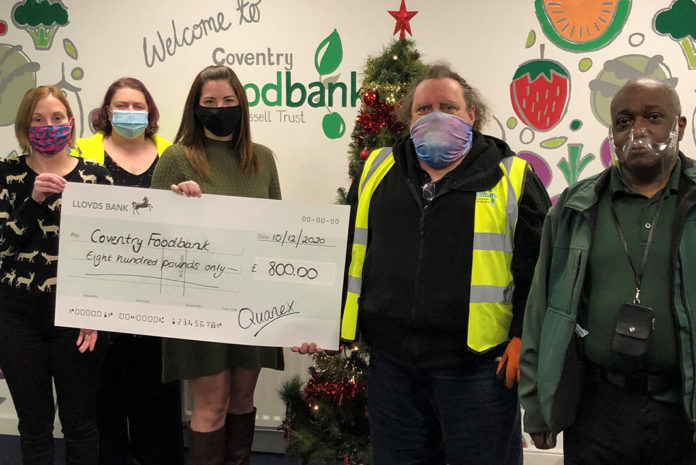 Edgetech says it is continuing to support worthy causes, despite the challenges of Covid, and has recently responded to the needs of its local foodbank, which is reported to have been in demand 'more than ever' in recent months, by donating hundreds of food and cleaning items. Quanex, Edgetech's parent company, has matched the physical donation with an £800 financial contribution.
Edgetech has also raised money for Myton Hospice, a local charity supporting people with terminal illnesses. Among other fundraising activities, staff took part in a 'Wear it festive' day, dressing up in garish Christmas clothing in return for donations.
The warm edge spacer manufacturer says that its usual charitable activities have been disrupted by the pandemic, but it has found other ways of continuing to support important causes.
For instance, Edgetech would normally support the coffee morning held by Macmillan Cancer Research each year, but in order to encourage social distancing the company encouraged individuals to take on sponsored challenges during the month instead.
With staff members giving up alcohol, losing weight, or in the case of head of technical development, Gary Shoesmith, walking the equivalent of the distance from his house to the Coventry office, the company managed to raise £410 for Macmillan during the month.
In previous years, Edgetech has also purchased holiday cards from glazing sector charity GM Fundraising. This year, since so many people are working from home, the company opted to send digital messages instead – but made a financial donation and purchased a special rainbow print to make sure GM, and Hope House Children's Hospice, didn't lose out on their usual support.
"At Edgetech, we're all very aware that we're in a relatively fortunate position," commented managing director, Chris Alderson.
"Many sectors of the economy have been devastated by the pandemic, with thousands of businesses in leisure, travel, tourism, hospitality and retail forced to close entirely.
"That meant that this year, we felt it was more important than ever to support the vital causes and organisations who do so much to help millions of vulnerable people throughout the UK.
"We want to thank all the local charities who've continued to do fantastic work in extremely difficult circumstances this year, and we look forward to continuing to support them in 2021".