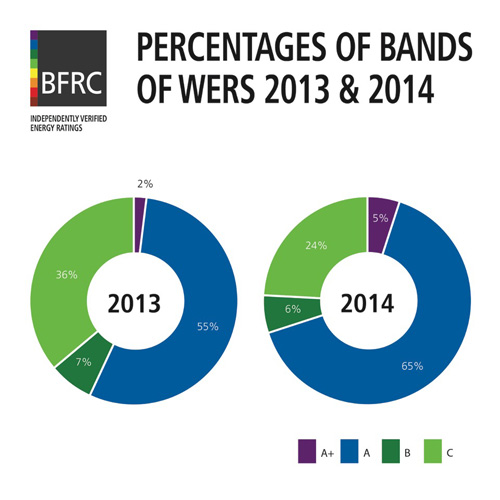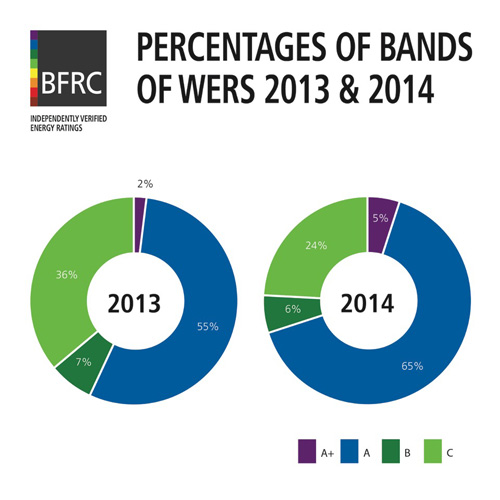 Following its analysis of the window energy ratings of replacement windows installed during 2014 in England and Wales*, the British Fenestration Rating Council (BFRC) reports that 'A+' rated windows doubled during 2014 (after being launched late 2013) as a percentage of the total number of rated product – and stood at nearly 5% by the end of the year.
'A' rated windows continued their steady increase in market share from 58% – 65% through 2014. In 2012, 'A' rated stood at 49%, and in the period pre the 'A+' launch in September 2013, had risen to 55%.
In contrast, the BFRC reports that there has been a slight decline in 'B' rated product through 2014 – from 7.1% in January to 6.2% in December. This follows decline in the two previous years with 2012 averaging 8.3% and 2013 averaging 7%.
'C' rated windows were found to have suffered the steepest decline. The average percentage of 'C' rated installations was 24% in 2014, compared to 42% in 2012 and 36% in 2013.
"These percentages make very interesting reading," commented BFRC managing director, Chris Mayne. "They support BFRC's contention that window energy ratings have moved the industry, and the product it manufactures and installs, ever further up the energy efficiency ratings bands. It will now be very interesting to see how the first 'A++' rated windows, expected to hit the market in a few months, will affect these percentages in the future."
For further information call 020 7403 9200 or email enquiries@bfrc.org
*Percentages of windows rated, as self-certified by installers