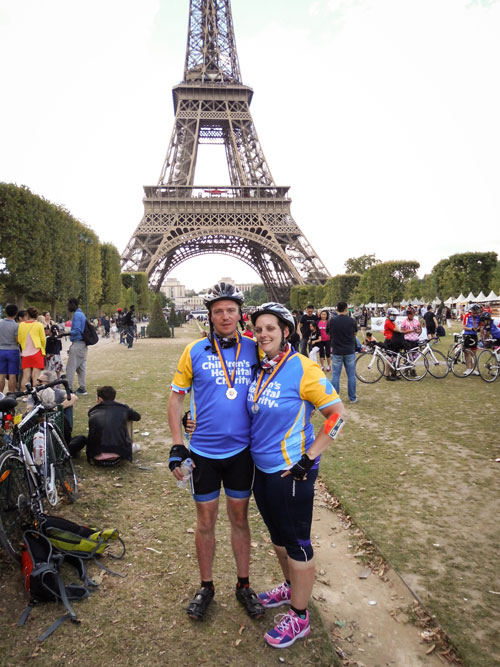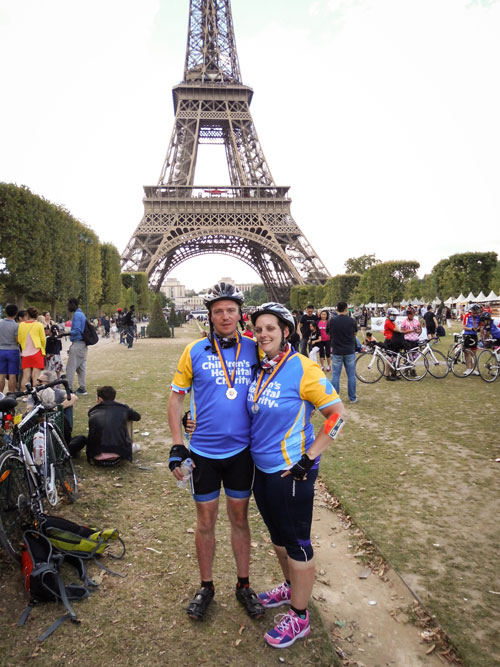 Endurance Doors product development and technical employee, Gavin Steeper, has successfully completed a gruelling 330 mile cycle ride from London to Paris in order to raise almost £4,000 for Sheffield Children's Hospital.
Inspired by the treatment his niece, Ebony, received for stage four neuroblastoma (a very aggressive form of childhood cancer) at the age of three, Gavin decided that he wanted to give something back to the hospital.
Following months of training, Gavin and his partner, Clare, set off as part of a group of almost 400 cyclists from Bexleyheath, London in July.
Over the next four days, the pair rode an average of 80 miles a day through hilly terrain, ascending close to 4,000m – almost half the height of Mount Everest – along the way.
Gavin and Clare found it hard going with seemingly endless roads and hills but they 'dug deep' into their reserves of endurance and finally arrived in Paris, circumnavigating the infamous Arc De Triomphe roundabout in Paris as an extra challenge.
Needless to say Gavin and Clare made it around the famous landmark unscathed and were able to take a well-earned rest when they reached the finish line at around 5 pm.
The next day some of the other riders took the opportunity to watch Chris Froome take his historic Tour de France victory, but Gavin decided against it: "After all that cycling the last thing I wanted to do was watch more – I was busy healing my wounds in the pub!" he said.
Endurance Doors' Stephen Nadin said: "We all knew that Gavin would be able to do it and we are extremely pleased to have him back safe and sound. The amount that he has raised for Sheffield Children's Hospital is absolutely phenomenal and we feel honoured to call him part of our team."
You can find out more about the great work that Sheffield Children's Hospital does at www.sheffieldchildrens.nhs.uk
You can make a donation to Clare and Gavin for their efforts at www.justgiving.com/Clare-n-Gav