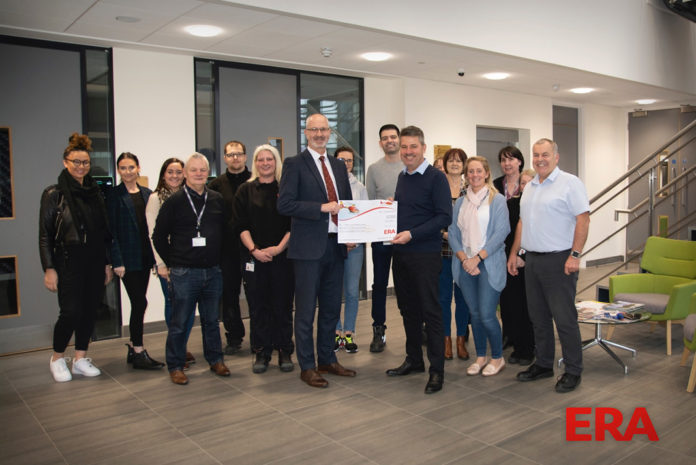 Hardware specialist, ERA, raised £11,262.86 for the Midlands Air Ambulance Charity in 2018, beating an initial £10,000 target.
Employees at ERA came up with a variety of fund-raising activities, including a book sale, a Valentines' raffle, a Grand National competition, a World Cup raffle and sweepstake, a Christmas raffle, a sponsored Snowden walk and the use of collection tins. In addition, ERA's suppliers kindly made donations.
Darren Waters, ERA's CEO said: "As we do every year, we asked employees to vote from a selection of charities and Midlands Air Ambulance Charity was the unanimous choice for 2018. To be able to do something positive for the local community is extremely gratifying and I'm very proud of our staff's efforts in this regard. Every flight costs £2,500 so it's great to know that the money we've raised will make a difference to people's lives in the Midlands region."
Commenting on the donation, Jon Cottrell of Midlands Air Ambulance Charity, said: "Many people are unaware that we are reliant on donations to keep us operational as we receive no government funding. We're extremely grateful to ERA's staff for this contribution, which will help to keep our aircraft airborne. For anyone wishing to know more about how to get involved with the charity, please visit www.midlandsairambulance.com for more information."
Midlands Air Ambulance Charity is responsible for funding and operating three air ambulances serving the communities of six Midlands counties: Gloucestershire, Herefordshire, Shropshire, Staffordshire, Worcestershire and the West Midlands. Since 1991, the charity has responded to more than 49,000 missions averaging 2,000 per year, making it one of the longest established and busiest air ambulance organisations in the UK.