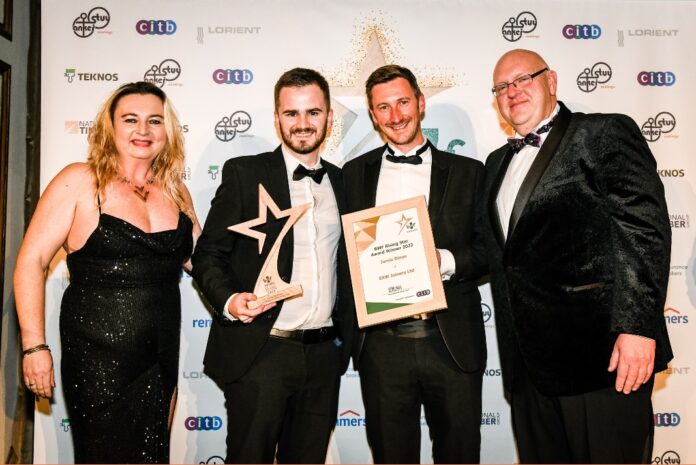 Jamie Dixon, technical manager for the timber window and door manufacturer ERW Joinery, was awarded the Rising Star Award at the national British Woodworking Federation (BWF) Awards on 25 November. The BWF Awards aim to celebrate the best of the best in UK woodworking.
According to his employer, Jamie demonstrated "exceptional skill and aspiration for the growth of the business. His attention to detail and customer service have positively impacted both the business and its customers."
Phil Tye, operations director at ERW Joinery, said: "Jamie is a huge inspiration to the team, always bringing new ideas and helping us shape our business for the future. We are all over the moon that he has been recognised for the outstanding contribution he has made on his journey since starting as an apprentice."
Helen Hewitt, the BWF's chief executive, said: "Jamie has clearly demonstrated incredible passion for his job and takes pride in what he does. He has had a significant impact on ERW Joinery in his seven years at the company. He's an integral part of the operation and is evidently valued by customers and colleagues alike.
"The BWF Awards allow us to come together and take pride in all that has been achieved over the past year. Our sector has overcome a great deal this year, with supply chain interruption as well as the increase in energy costs and the continued skills shortage. The awards are a welcome opportunity to celebrate the hard-earned achievements of the past year and showcase the skill and technical expertise in the sector.
"Every year I'm amazed at the hard work, innovation and incredible skill of all of our finalists. I want to congratulate all our winners on their achievements. It was fantastic to bring the industry together once again and celebrate the successes our ever-evolving profession."
The prize was presented at a celebratory awards evening held at the Kimpton Fitzroy London Hotel. A full list of the winners at this year's BWF Awards is published online at bwf.org.uk/awards-2022.