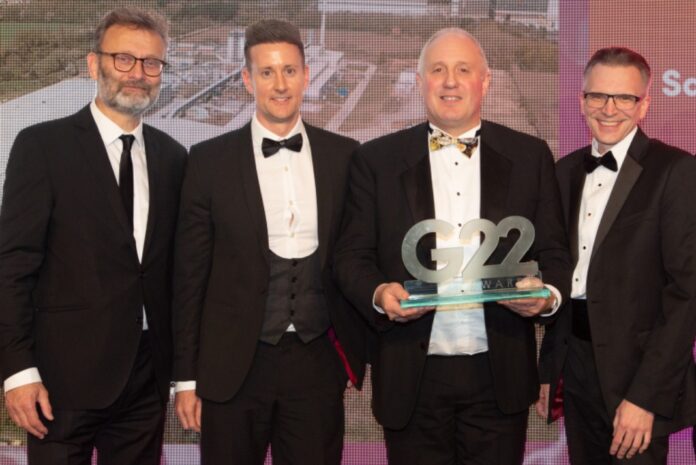 Representatives of Saint-Gobain Glass are celebrating two G22 wins this year: not only was the business named Glass Company of the Year, a key employee also won the Unsung Hero category. The 2022 G Awards took place in London on 25 November.
Saint-Gobain Glass was recognised as the Glass Company of the Year for its commitment and investment in the industry. Last year it invested more than £30m in its site in Eggborough, which included the installation of a new state-of the-art float glass furnace. The project was one of the fastest 'cold-repair' upgrades of a float-glass furnace.
Production specialist Will Ruane took home the Unsung Hero trophy. He joined the company as an intern in finance department, took an interest in glass production and is now on a development and training programme to achieve a senior management role in float glass manufacturing.
Will played a vital role in the project to install the new furnace. His dedication,
work-ethic and infectious positive attitude helped the team to deliver a hugely complicated project on time and on budget, against the additional complication of tight Covid working restrictions. After subsequently suffering a life-changing accident he returned to work within six months and continues to be a valuable and proactive member of the team while using a wheelchair.
Steve Severs, managing director at Saint-Gobain Glass, said: "This is a fantastic achievement for the whole team and hugely rewarding for Will. The G22 Award comes immediately after winning two awards in the Glass Focus Awards, where our project, the Spark, was awarded 'Design of the Year – Flat Glass' and we also won the Strengthening Business through People award. These four awards have been won for our work and achievements during a couple of difficult years, and demonstrate the commitment and resilience of the team as well as the team's continued passion for the industry."