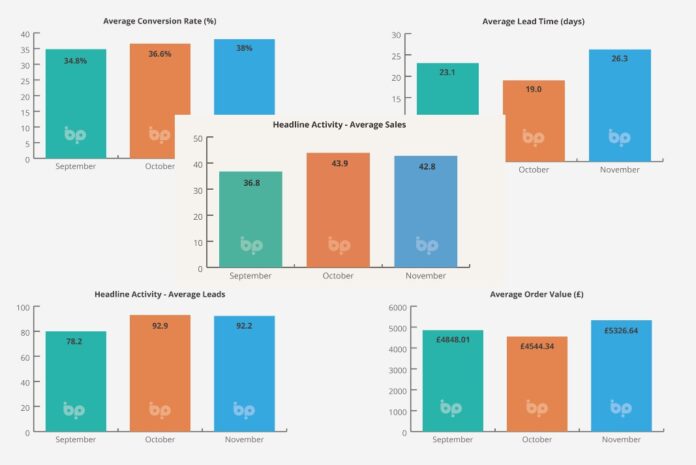 Neil Cooper-Smith, senior analyst, Business Pilot
The Business Pilot Barometer offers monthly analysis of the key trends defining window and door retail. It draws on real industry data collated by Business Pilot, the cloud-based business management tool developed by installers, for installers.
Anecdotally, there's a general sense that things have become tougher in the last month, and that the market has cooled. That's not, however, supported by the figures.
Yes, average leads were down in November but only by 0.7: from 92.9 in October to 92.2. Sales recorded a modest fall of 3%. It is important to note that this follows the 19% bounce in leads and sales recorded in October on September.
The year-on-year figures also suggest that the market is holding up. Leads were down 10% and sales 9% but that's from the hiatus of 2021 and the backlog of demand that the industry was still working its way through this time last year. We would expect some seasonal slow down going into the Christmas period, so there's nothing in the figures this month to suggest that households have stopped spending.
In a sense, it's the opposite. Average order values were up 17% in November from October figures, at £5,326. Year-on-year, the average order value was up 11%.
We argued last month that there was a direct correlation between rising energy prices and demand for new windows and doors, particularly where finance is available. What we can conclude from this month's figures, and those for the month preceding it, is that there has been a shift to more comprehensive replacement projects carrying a higher combined order value, ie whole-house replacements, and away from discretionary aspirational spend, for example single purchase bi-folds.
We would expect to see this kind of trend, based on historical seasonality in the window and door industry. However, average order values have been consistently higher in the last three months than at any time other than May or June, which suggests that there is a further influence on the market this time around.
Rising energy prices certainly give the window and door industry a far stronger narrative on savings and payback times. The Deceuninck Energy Price Calculator, released last month, can help identify savings of up to £1,400 a year.
Another explanation is that only people who are better equipped for the impact of rising energy prices and wider inflation, those who are wealthiest and have bigger properties, will specify premium products. Figures for November are most likely attributable to a combination of both of these factors.
People with cash are still spending it; where they are, they are investing in energy-efficient home improvements. This should give us some reason for optimism going into 2023 – even if, as predicted the housing market cools.
There is a clearly a link between activity in the housing market and window and door sales. Activity has slowed in the autumn and prices have fallen but the market hasn't crashed. The alarmist comments made in the days following the 'mini budget' in October that the market would fall by 20% have been revised downwards to between 6 and 8%. That is unlikely to cause too many homeowners sleepless nights.
But further increases in energy bills will. And those are likely to heading towards all of us in the coming year.
It's time to mine your data for those projects that you didn't close or win, and to retarget them. Business Pilot is being used by our customers to do this daily: automating processes, saving time and making sure leads never fall through the net. Find out how we can help your business grow.