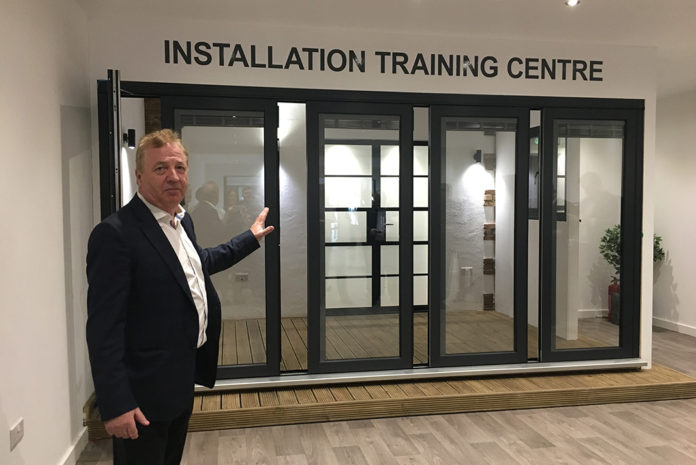 With the Panoramic 'swing and slide' door as its flagship product, the company says that it will offer further evidence of its unique approach to product development with a number of new product launches at the FIT Show in May. These will include additions in the most popular window styles and a new PVC-U version of its swing and slide door that is aimed at broadening the market.
With more than 10,000 Panoramic doors reportedly installed in the UK and 260,000 worldwide, the PVC-U version of the door will be offered exclusively through professional installers who have undergone Panoramic certification. Panoramic says that its swing and slide is selling in 'ever-increasing' numbers to homeowners that appreciate the wide, uninterrupted openings of conventional bi-folds, but with the added versatility and compact opening 'footprint' enabled through the hingeless design.
In addition to doors, Panoramic says that it is introducing a range of windows that 'clearly exhibit' its innovative approach. In line with the surge in flush sash windows, Panoramic has developed its own unique version, available in a catalogue of 250 colours. Featuring seamless welds that complement the minimal, equal sightlines, a key feature of this window is the hidden handle that pops out of a recess at a touch, and which also contributes to the smooth, uninterrupted surfaces.
The company is also introducing a new vertical slider that will also be available in 250 colours. According to Panoramic, this will be produced from unique PVC-U profiles and will offer an authentic appearance, sympathetic to the host property.
A further reveal will be in-glass blinds from new division, Panoglass. Competitively priced, these have been designed to float within the glass unit to allow the user to position the blind without restriction, providing shade and light according to the user's needs.
Alan Rees says: "Every window and door that we design and manufacture will include useful and advanced features that are exciting and different from anything else that retail customers will have seen on their journey to improve their homes."