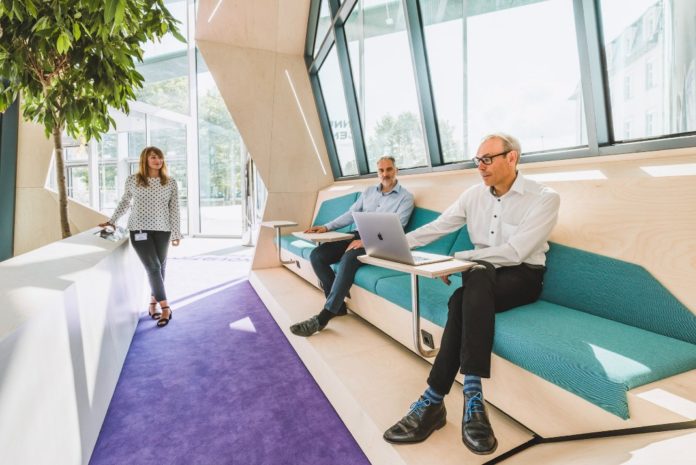 The dynamic glass specialist Eyrise has scooped five international architecture and design awards, for two projects undertaken in partnership with architects 3deluxe. The Eyrise Cubicle – the centrepiece of Eyerise's Innovation Centre in Darmstadt, Germany – was recognised in the Iconic Awards 2021 with two Innovative Architecture awards, and also in the 2021 Red Dot Awards for Brands and Communication Design. FC-Campus – a newly built office complex in Karlsruhe, Germany, designed by 3deluxe and glazed with Eyrise dynamic glass – saw success at Iconic Awards 2021 too, taking home awards in the Corporate and Innovative Material categories of the Innovative Architecture section.
Organised by the German Design Council, the annual Iconic Awards awards honour architectural and interior projects, product design and materials. Named a winner in the Event/Exhibition and Innovative Material categories, the Eyrise Cubicle displays the benefits of Eyrise's privacy and solar shading glass. Viewed from the exterior, it forms a complex installation, providing multi-layered views through the two types of glass, while the interior provides an intimate space for working and social interaction.
"The Eyrise Cubicle represents our progressive architectural approach," said Baldur Steimle, head of architectural design at Merck, Eyrise's parent company. "Buildings should be a dynamic environment that combine light-flooded open spaces while also offering areas that provide privacy."
FC-Campus, Eyerise's other award-wining project, is comprised of two white cubes set diagonally opposite each other. The FC-Campus buildings merge into one sculptural form when viewed from a distance. Produced in a variety of organic shapes and in a distinctive blue colour, Eyrise's dynamic liquid crystal windows provide instant solar shading that Eyerise claims enhances occupant wellbeing.
"These awards recognise Eyrise's significant contribution to modern building design," said Celina Glipa, CEO of Eyrise. "Our dynamic liquid crystal glass enables architects to create exciting, forward-looking buildings that support light wellness while helping to reduce energy consumption."