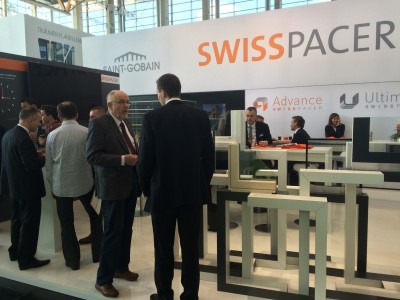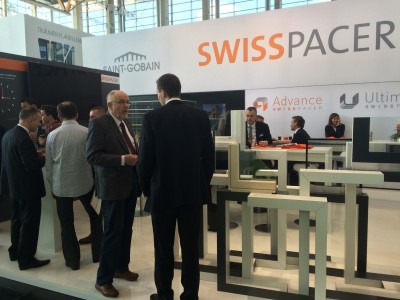 Swisspacer enjoyed another busy and successful show at this year's Fensterbau Frontale exhibition in Nüremberg, Germany.
The warm edge spacer bar supplier says it had a record number of visitors on its stand over the four-day exhibition. People came to learn more about Swisspacer's latest innovation, Swisspacer Air, which prevents sealed unit failure caused by changes in altitude. Featuring an active membrane, the device has been designed for non-gas filled units where changes in altitude can affect air pressure inside the sealed unit and cause the unit to fail. Swisspacer Air fits unobtrusively into the spacer bar and sealant to equalise air pressure differences between the sealed unit and surrounding atmosphere.
Swisspacer head of marketing, Jan Hiersemenzel commented: "Once again Fensterbau was a resounding success for Swisspacer. We welcomed customers and prospects from across Europe and beyond to our stand, all of them eager to learn more about Swisspacer Air. Our wider 32mm and 36mm spacer bars, which are used for doors and special applications such as sealed units with integral blinds were also very popular on the stand.
"Fensterbau is one of Europe's premier glass and glazing exhibitions and we find it an excellent platform to meet prospective customers. Now we have the FIT Show firmly in our sights and look forward to seeing everyone in Telford in April."
Visit Swisspacer on Stand 324 at the FIT Show and learn more at www.swisspacer.com/en.