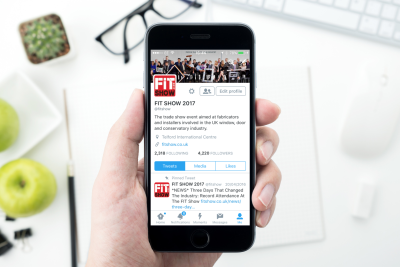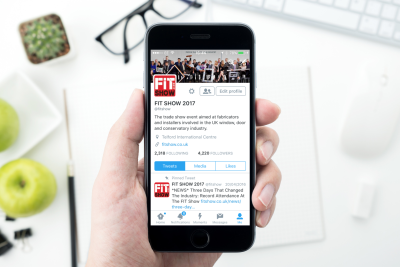 FIT Show 2016 might be over but after taking a closer look at the social media statistics associated with the build up to the UK's window, door and conservatory trade show, it's clear that the industry is now fully engaged with Twitter and other social media outlets.
Proving the most successful social media platform due to its instant engagement, the FIT Show Twitter account was visited a total of 36,000 times in the month of the show alone –more than the previous 24 months combined.
Starting the show approaching the 4,000 follower mark, by the time the event had ended on April 14 it had attracted 301 new followers and overtook the 4,000 mark with ease. Currently sitting at 4,219 followers, the FIT Show was also mentioned a total of 5,967 times in the months of March and April in the tweets sent by others, which is three and a half times more than the 12 months leading up to the show combined.
The most impressive stat to come out of FIT Show 2016, the event's organisers claim, is the number of Tweet impressions it received. This is the number of times a Tweet has been seen on another's timeline and the number the FIT Show received during the month of April was over quarter of a million (259,000).
With more engagement happening on social media outlets such as Facebook and LinkedIn, each played a big part when reporting the larger stories that took place at FIT Show 2016. While Twitter provided an instant news platform as the show took place, Facebook and LinkedIn are said to have proved 'vital' at the end of each day, providing a platform for longer conversations not restricted to 140 characters.
Follow the FIT Show on Twitter using the handle @FITShow while its Facebook account can be found at https://www.facebook.com/fitshowuk.