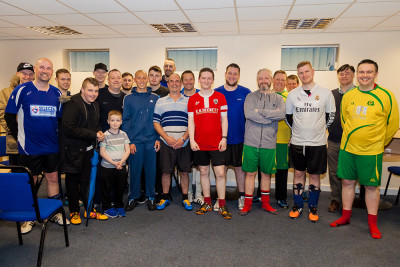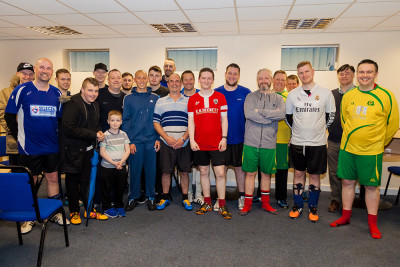 With more water on the pitch than in the local pool, you'd have been forgiven for turning up in speedos to this year's FIT Show football tournament at AFC Telford's Goalzone. Regardless of the heavens opening up, all who participated had fun. Taking place the night before FIT Show 2016 kicked off, leading PVC-U extruders Selecta Systems emerged victorious taking home the coveted winners trophy.
A few teams down after some last minute dropouts, it looked like rain wasn't going to be the only thing interrupting play early on. But after some late transfer negotiations by Mick Clayton of GQA Qualifications, four teams were assembled and play began.
Made up of two Selecta teams, a team from GQA, and a Quickslide team, with the FIT Show fielding its PR and marketing executive, Will Lavin, the hallowed 3G turf at AFC Telford played host to a tournament showcasing some flamboyant football, stretching saves and unbelievable tekkers… well, sometimes.
As the rain continued to pour down the goals started to pour in for Selecta's A Team, captained by Scott Silver. Taking out all who stepped onto the pitch with them, they won all three of their games, while Quickslide were not too far behind, securing second place with just four men in their squad – a man less than everybody else. Selecta's B Team finished third while GQA finished in fourth – which might have had something to do with key player Mick defecting to runners-up, Quickslide.
FIT Events' Paul Godwin was on hand to support the evening, providing medals, a winner's trophy and complimentary food and drink after the games.
Mark Walker, marketing manager, at winning side, Selecta, commented: "Selecta would like to thank all those who took part, as well as Mick for organising the tournament and Paul for his support. We also look forward to next year's tournament where Selecta will return to defend the trophy!"