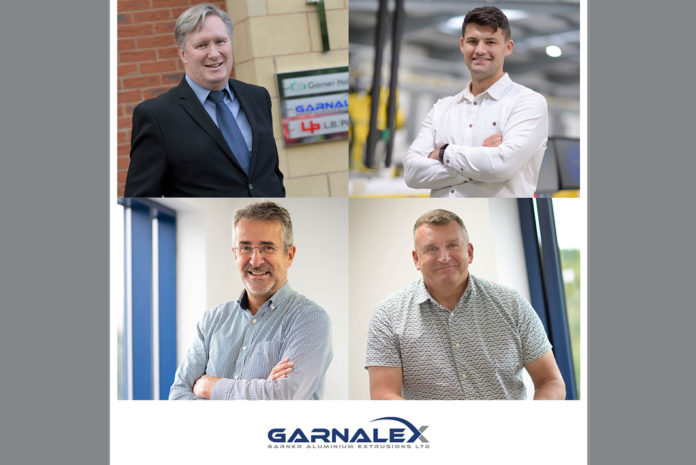 Garnalex has announced that 'everything is on track' for the launch of the new Sheerline system in Q1 2020 and has also revealed that four more 'bit hitters' have joined the company – Darrell Woodward, Richard Munyard, Ross Hartshorn and Tracy Edmunds.
Darrell Woodward is the Garnalex UK sales manager. Working in the aluminium extrusion industry for over 35 years, he says the response to Garnalex has been 'phenomenal': "Trade extrusion enquiries are coming in fast and we have the potential to expand into so many markets that use extrusion," he said. "It's the most exciting investment in the industry for many years, and there's no other facility like it in the UK. With Roger's background, reputation and attention to detail I knew it'd be a venture too good to miss!"
Richard Munyard joins LB Plastics, part of Garner Holdings, as injection mould consultant. With a 30-year career as managing director of S&S Plastics, Richard remained with the company when it was sold to Eurocell in 2015 and has worked with Roger on injection moulding requirements for the last 10 years.
Richard's main priority at LB Plastics is overseeing a £750,000 tooling investment in moulding machines, robotics and tools, and co-ordinating between the Garnalex technical team and his contacts in the tooling industry. All Garnalex' end caps and accessories will be produced in-house. Richard commented: "Roger really has set up a 'dream team' at Garnalex. With our joint experiences, we know what bad looks like and we certainly know what good will look like. It's a privilege to be a part of it. And the five-minute commute to work helps too!"
Ross Hartshorn, Garnalex technical production director, began his career as an apprentice in tooling design, manufacturing and maintenance at HL Plastics. He now oversees all aspects of the Garnalex factory development from designing the layout of the new plant, the equipment, tooling and maintenance, to helping design the internal process management system GarnerSyS. "During my time at HL, I learned that by implementing processes and keeping open communication between departments, it's possible to improve cycle times, line speed and production productivity," said Ross. "We've set up these practices at Garnalex to ensure we get longevity, easier maintenance, extended life and better quality of the dies and resulting profiles we extrude."
Tracy Edmunds, hardware design and development engineer, joined Garnalex after a career with ERA hardware, Winlock and HL Plastics. Tracy has been tasked with sourcing and developing a varied range of complementary hardware for the Sheerline window system. "I'm excited that I've joined Garnalex at a time when the industry has caught 'the aluminium wave'," she said. "It's the way forward for the industry and we've generated lots of interest. We're creating a simplified product that's easy to fabricate, and that meets all the requirements of PAS24 security standards."