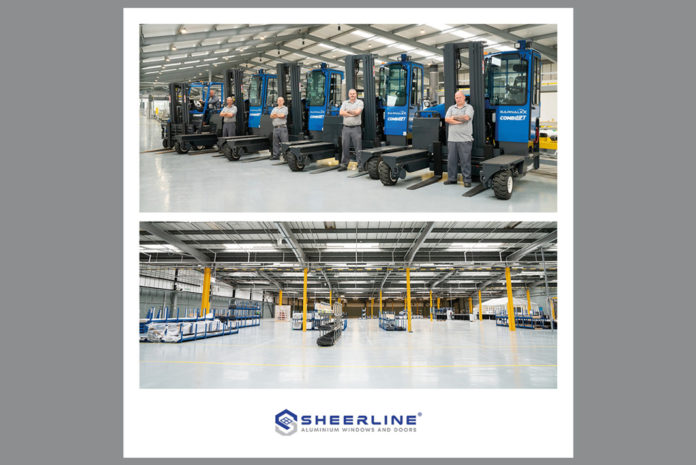 Despite lockdown and economic uncertainty, Garnalex says it has continued to invest in its new aluminium window and door systems. The company is said to be on track and launching Sheerline Classic, its beadless aluminium window system in July. This will be quickly followed by the launch of Sheerline's Prestige window and door system at the end of the Summer.
The latest investment in Sheerline includes an integrated 85,000 ft2 assembly line, warehouse, and control centre. The company has also expanded its fleet of Combilift forklift trucks which, together with the bespoke GarnerSys software operational management system, is designed to ensure maximum efficiency in its factories, warehousing, and logistics – resulting in better service levels and reliability for customers.
Strengthening its team, Garnalex has also welcomed industry veteran, Tony Basile, who will work alongside Paul Greenaway as Sheerline technical sales managers. They will be responsible for driving sales by giving customers active technical assistance and support in setting up Sheerline fabrication.
Commenting on the recent investment, Garnalex CEO Roger Hartshorn, said: "The Covid-19 pandemic is the biggest challenge the UK has faced since World War II. But in the face of adversity we've continued to invest and press on with the launch of Sheerline and the opening of a large new factory assembly, warehousing, and control facility, and have invested in two new, additional Combilift forklifts. We've put our foot to the floor to keep Sheerline Classic on track for launch this month. All the price matrixes, sales aids, samples, showroom, sales literature, video training suite, and technical guides are ready, and many of these break new ground too. Our new website will launch later in July.
"Last, but not least, we've expanded our expert team. I'm delighted to welcome Tony Basile and Paul Greenaway to the newly-created roles of technical sales managers. Both Tony and Paul have extensive industry experience and contacts, and they will be instrumental in signing up new fabricators and getting them started with Sheerline Classic. Sheerline systems are unique in incorporating many innovations and radically new ways of fabrication, assembly, and installation. So, to reflect that different focus we've taken an integrated approach to sales and support, with technical experts giving customers real support, rather than just the hard sell. We'll be expanding our range with the launch of Sheerline Prestige later in the year, and to say we're excited and optimistic about the future would be an understatement!"