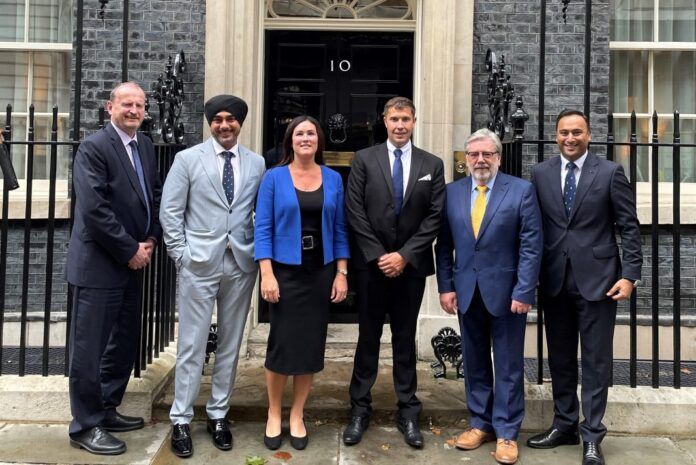 Four officers of the Glass and Glazing Federation (GGF) have attended a meeting at Number 10 Downing Street with UK prime minister Rishi Sunak's political adviser, Ameet Jogia MBE. During the meeting, the team discussed the role of glazing in reducing the nation's carbon emissions. The move is part of the organisation's continued efforts to effect change by lobbying government officials.
"We successfully highlighted to government that the research indicated that a significant 80m windows would benefit from immediate replacement, saving as much C02 as taking 1.88m cars off the road," said Natalie Little, president of the GGF. "We were also able to demonstrate the timely cost saving benefit to individuals, as the research estimates that the average annual saving per household for upgrading windows to current standards is £395."
John Agnew, the GGF's group managing director, added: "The GGF recently conducted a comprehensive piece of research into the part that glazing can play in achieving net zero. The results were conclusive. Despite the fact that 86% of homes already have double glazing (the government's previous argument for excluding the sector from the Energy Company Obligation, ECO+, scheme), we all know that this isn't the full story. For example, 70% of windows installed since 2002 were C-rated and so don't meet the building standards relevant today.
"The GGF team has translated the research into an easy-to-read infographic entitled 'A Window of Opportunity' to highlight the difference that glazing can make. This is the document we presented to government."
Natalie continued: "The 'Window of Opportunity' document leaves little room for scepticism about the impact of glazing on carbon emissions. We will continue to support the industry by gathering and collating the facts, and presenting them to the people that have the power to make a change."