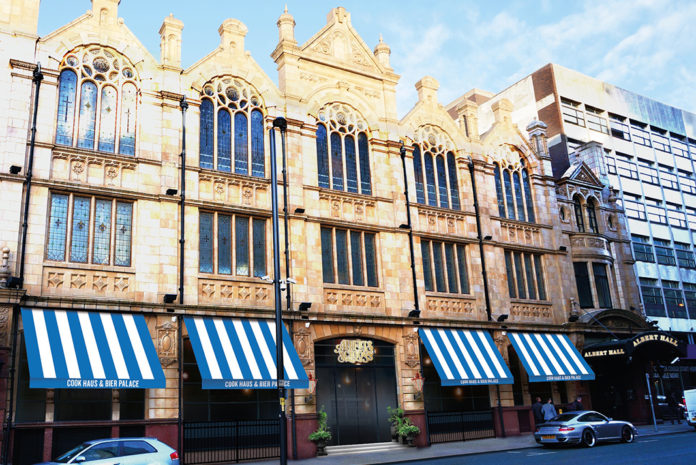 Following on from the success of the 2019 Conservatories & Orangeries Awards, GGP Magazine has announced the launch of the 2020 Installer Awards, an event that will celebrate the work of the UK's best window, door and conservatory installation companies.
Scheduled to take place on Wednesday, 14 October at the Albert Hall in Manchester, the GGP Installer Awards will also shine a spotlight on individual installers who have made an outstanding contribution throughout their career, together with those who are at the start of their journey in the industry and have already proven to be an exceptional talent.
The new awards, which will cater for both residential and light commercial projects, will be split into regional categories throughout the UK, with the winners invited to the 'Grand Prix' presentations in Manchester later in the year.
Other categories will cater for 'Best Installer Support Programme or Service', 'Best Technical Innovation' – which will focus on technical innovations across the industry that have been designed specifically with installers in mind – as well as for 'Best Conservatory or Orangery installation up to and over £35,000'.
Commenting on the announcement of the 2020 Installer Awards, Richard Gaunt, chairman of headline sponsor, Made for Trade, said: "This is an opportunity to support the UK's door, window and conservatory industry installers, shining a spotlight on their hard work, which is something that hasn't been done before on this scale. It was so refreshing to witness the transparency, clarity and fairness of the judging at the 2019 GGP Conservatory & Orangery Awards and we are looking forward to this new event as it builds on their success."
Chris Powell, sales and marketing director at Britmet Lightweight Roofing, host sponsor of the Installer Awards, added: "Britmet Lightweight Roofing are delighted to be the host sponsor for the 2020 Installer Awards. As a key supplier of lightweight synthetic and metal roof tiles to the solid roof conservatory industry, we are incredibly proud to take on this opportunity to support such a fantastic and paramount showcase of the UK's conservatory, window and door industry installers – celebrating their hard work. At our first time sponsoring the GGP Conservatory & Orangery Awards in 2019, it was invigorating to witness the impartial and revitalising style of judging and we are looking forward to this new event as it continues to build on their success."
John Crittenden, managing director of main sponsor, Carl F Groupco, said: "As established hardware distributors, our primary focus at Carl F Groupco is to provide the UK fenestration industry with a comprehensive range of high-quality window and door components to meet all installation requirements. This business focus is backed by comprehensive support and installers play a key role in the front line, fulfilling projects and interfacing with customers. It is important that the work of installers is recognised and we are privileged to be a main sponsor of the inaugural 2020 GGP Installer Awards."
John Crittenden, managing director, Carl F Groupco.
For more details on the GGP Magazine 2020 Installer Awards, please visit; www.ggpinstallerawards.com