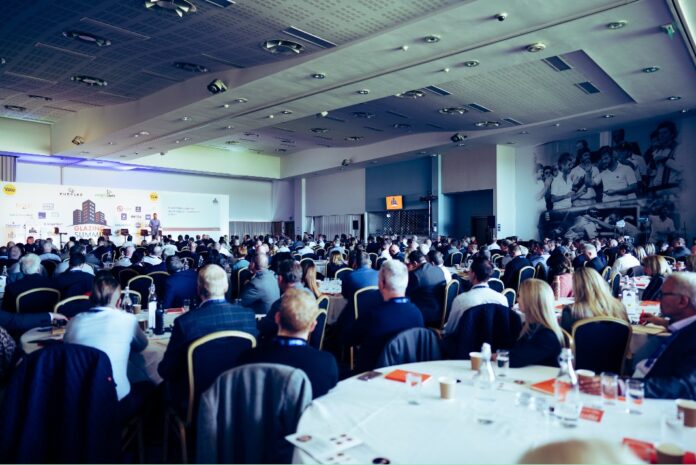 More businesspeople than ever before attended the Glazing Summit this year, causing the event to exceed its attendance record for the fourth year in a row. The fenestration industry's finest came together for another day of debate, discussion and networking on Tuesday (18 October).
Almost 500 delegates met at Edgbaston Stadium, Birmingham, for what was hailed as the best Glazing Summit yet. The event also featured more big-name sponsors, more expert speakers and more keynote addresses than ever before.
According to the Glazing Summit's founder, the CEO of Purplex and Insight Data, Andrew Scott, the delegate numbers show the event's growing importance to the industry. "The Glazing Summit has grown year on year, and to get our biggest ever turn out not only shows the event's significance in the industry calendar but it also shows the desire as an industry to come together to share ideas and tackle the issues we are all facing," said Andrew.
"After the boom in home improvements through the Covid-19 pandemic, we now face economic and global uncertainty. So it was an important time to get together and discuss where we're heading and how we can best navigate our way through the challenges ahead.
"Times are going to get tougher. But rather than doom and gloom, this year's Glazing Summit showed there is plenty of opportunity out there for agile businesses. I hope those in attendance left as optimistic about the future of the industry as I did."
Attendees enjoyed five dynamic debates and discussions with a panel of industry experts on important issues such as the current supply chain challenges, people and skills, regulations, innovation and merges and acquisitions. Delegates were also treated to keynote addresses by Richard Harpin, CEO of Homeserve PLC and one of the most successful entrepreneurs in the UK, who closed the event, Barclays' chief economist William Hobbs and the retail and customer experience expert Peter Cross. The evening's Glazing Summit gala dinner included a motivational speech from the athlete and sports personality Kriss Akabusi.
"The Glazing Summit is only as good as its panellists, keynotes and agenda, and we raised the bar again this year," added Andrew. "The combined knowledge and experience in the room was incredible. I'd like to thank everyone who attended and all our sponsors for making it a truly memorable event. I'm already looking forward to another equally important Glazing Summit next year."
To book your place early at next year's Glazing Summit, which is set to take place on Thursday 12 October at Edgbaston Stadium again, visit glazingsummit.co.uk. You can also call 01934 808 293 or email hello@glazingsummit.co.uk.