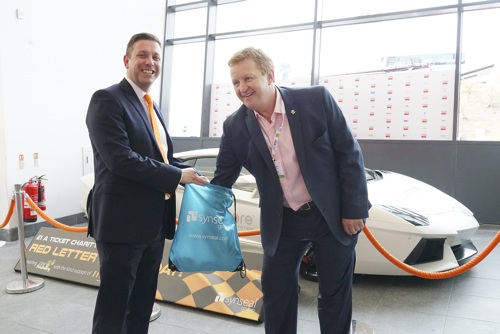 The GM Fundraising team says it has, once again, been overwhelmed by the industry support received during FIT 2016. Thanks to a variety of events during the show, the charity has raised a total of £10,090 every penny of which will go to support the children and families of Hope House.
The GM Fundraising stand which was kindly donated by The FIT Show – Matthew and Paul being part of the upcoming Border2Border team – gave the team a chance to showcase what they do and where the money goes. The 'Beat the Pro' challenge proved a popular attraction and the winner, Brad Guant from RAM Tracking, will shortly be heading off for a weekend in Amsterdam as his prize for cycling 531.04m in 30 seconds.
Gary Morton, chairman of GM Fundraising, said: "What a great show! We were overwhelmed by the support and grateful to The FIT Show for allowing us to have the platform to talk to visitors and exhibitors about the events we run and the money we raise. We were supported throughout the show by a team from Hope House, who enjoyed being able to personally thank our supporters and explain what a difference their donations make to the work carried out by the charity."
"The gala dinner was also a great success. The night was thoroughly enjoyable with spectacular entertainment, and following a short video and speech from Paul Godwin, an overall total of £8,840 was raised for GM Fundraising and Hope House through donations on the night. We were also particularly touched when the MC took it upon himself to endorse the work done by hospices such as Hope House, by telling a personal story to all the guests.
"Once again, we have been overwhelmed by the support and generosity shown. We would like to extend a special thank you to The Synseal Group, who donated all the funds raised from their raffle to GM Fundraising, adding a further £1,250 to the pot."
Andy Jones, Synseal Group sales and marketing director, pictured with Gary Morton, said: "The Synseal Group is delighted to have been able to support GM Fundraising in this way. The work they do in order to raise vital funds for Hope House is invaluable. 
"Special thanks must go to Sunil Patel of Unique Window Systems, who very kindly loaned us the Lamborghini, which really attracted the attention of the visitors to the show. It's a pleasure to help and support such a worthy cause. We will continue to support Gary and the team in any way possible and wish them all the best for their next epic challenge."