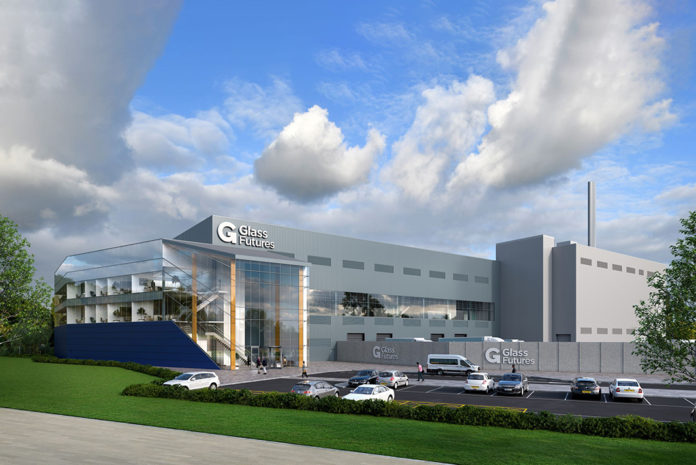 Following on from our report in February, planning permission has now been granted for the £54m glass research and innovation facility in Saints Retail Park, Merseyside. The planning consent moves the delivery of the state-of-the-art facility, together with the world's first openly accessible test and trial furnace operation, a step closer. The 160,000ft² facility will be used to deliver industry and government backed research and development projects focused on decarbonising glass production.
Construction company, Bowmer + Kirkland, has been appointed to build the Global Centre of Excellence following an open procurement process through the North West Construction Hub. Work is expected to begin on site in July, and should complete by December 2022. The project delivery is led by the developer Network Space on behalf of an innovative partnership created between the not-for-profit research and technology organisation Glass Futures, and partners including the Liverpool city region Combined Authority and UK Research and Innovation.
Catherine Chilvers, Network Space's development director, said: "We are delighted to have successfully secured planning permission for such a high-profile and transformational project for St Helens and the Liverpool city region. The consent is another major milestone in transforming the former United Glassworks site into a global hub for research, whilst once more positioning St Helens at the forefront of glass innovation and sustainable glass manufacturing. Our team and the partnership that we have formed has worked tirelessly in bringing the concept to life and converting it into a deliverable scheme. We hope to announce further progress in the coming months."
Steve Rotheram, metro mayor of the Liverpool city region, said: "I'm committed to reshaping our economy after Covid so that it is cleaner, greener, stronger, and designed around the needs of local people. We've invested £9m to help bring Glass Futures to life to help deliver that radical change.
"Glass Futures has the potential to put our region at the forefront of the green industrial revolution and make us a global leader in new technology. When complete, this project will help take St Helens proud history in glass making and bring it into the 21st century, creating lots of local jobs and drastically cutting carbon emissions."