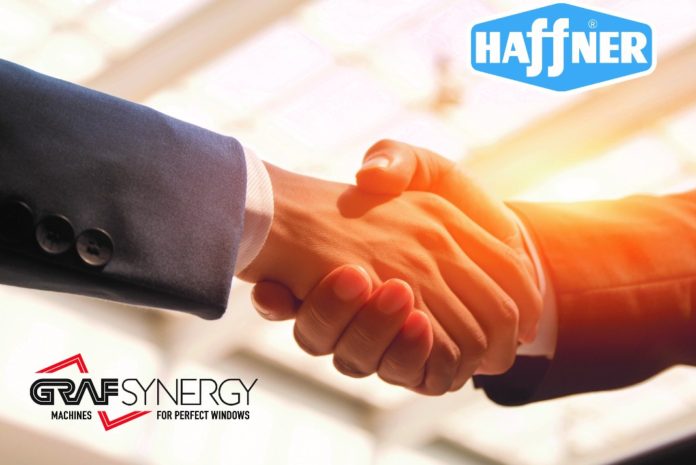 Award-winning machinery business, Haffner, has announced an exclusive supply partnership with Italian-machine innovators, Graf Synergy. Haffner claims that the partnership will give it 'the largest and most comprehensive machine portfolio in the industry' and further consolidate Graf Synergy's presence in the UK fenestration market.
Dave Thomas, Haffner's managing director, said: "Graf Synergy offers state-of-the-art automated machinery at every level. By working with Graf Synergy, we'll be able to offer even more choice to fabricators and further cement our position as the go-to machinery experts."
Graf Synergy delivers machines for both aluminium and PVC-U fabrication. It is well-known for its seamless welding technology and patented welding techniques, increasing both fabrication efficiencies and delivering superior product quality. Dave added: "The scale of Graf Synergy and the technical innovation behind all their machines complements our comprehensive machine offer perfectly, and will help us drive the next level in cutting-edge machine technology for our customers."
Haffner is the sole UK agent of Haffner Machinery, which designs innovative and high-quality engineered products at competitive industry prices. It also supplies aluminium fabrication machines from Italy's Fom Industries. Fom is part of the worldwide FomGroup, offering quality machines with competitive lead times.
In addition to this partnership, Haffner has recently commissioned several large-scale investments, including doubling the size of its Staffordshire headquarters, adding a 1,990m² showroom extension and opening a new 37,000m², purpose-built factory in Istanbul, Turkey, as part of its growth strategy.
Dave said: "The new partnership with Graf Synergy, along with our level of expansion, is a clear indication of our continued success. The new, exclusive collaboration will blend the innovative expertise of the two businesses and provide a transformative approach to machine technology to deliver the best in fabrication machinery."
Graf Synergy machines will accompany a large-scale range of machinery on Haffner's 405m² stand at this year's Fit Show. Read more about the stand, and the show, here.