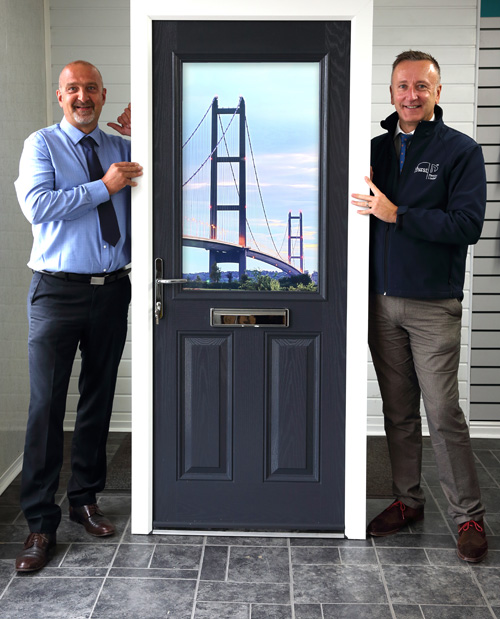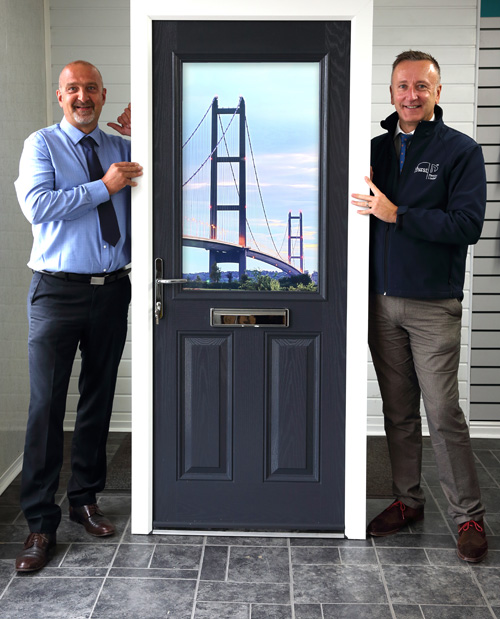 As the city of Hull nears the end of an 'extraordinary year' as 'UK City of Culture 2017', Hurst Plastics has unveiled a unique composite entrance door that pays tribute to one of the most prominent landmarks of the company's home city.
Manufactured at Hurst Plastics' dedicated factory in Hull, the door features a spectacular image of the Humber Bridge from local photographer Wendy Rowe, who lives in Hessle. The iconic 2,220m long suspension bridge, which was given Grade I listed building status in July, was chosen by Hurst as a fitting subject for the door because it captures the heart of Hull as a thriving city port and vibrant cultural destination. The bridge also inspired the name for the one-off door – the Humber door.
The door was presented to Hull based installer Yorkshire Windows and Doors, which has been a customer of Hurst Plastics for 20 years. The company will display the door in its showroom in Sutton Fields before handing it over to local charity Dove House Hospice. The hospice will auction the door at its annual Winter Ball, which takes place in November at The Country Park Inn in Hessle. The fundraising gala event hopes to raise £12,000 for the hospice.
Mark Atkinson, sales director at Hurst Plastics, presented the door to Chris Hornby from Yorkshire Windows. Mark said: "This is a really special year for Hull and we just had to produce something that marked the occasion and honoured our famous bridge. We have some clever technology that's capable of reproducing any photograph onto glass and so the idea was borne to create a door with a dazzling image that really captures the essence of Hull. And here it is – the Humber door!
"The finished door is remarkable and we're proud to have created a real statement piece that's like nothing else out there. And of course, we're delighted to donate it to Dove House Hospice and to lend our support to a fantastic local charity. We certainly hope it opens the door to a bidding frenzy at the auction!"
Chris Hornby, managing director of Yorkshire Windows and Doors, added: "It is a real privilege to be custodians of this magnificent door, which is a true celebration of Hull. I'm a Hull man and this year has been an incredibly proud year for the people of Hull as UK City of Culture. I'm very pleased that the door will also help to raise money for Dove House Hospice. I have personal experience of the hospice and it's a wonderful place."
The Dove House Hospice winter ball takes place on 25 November at The Country Park Inn in Hessle. For more information and to book tickets, visit www.dovehouse.org.uk/ball