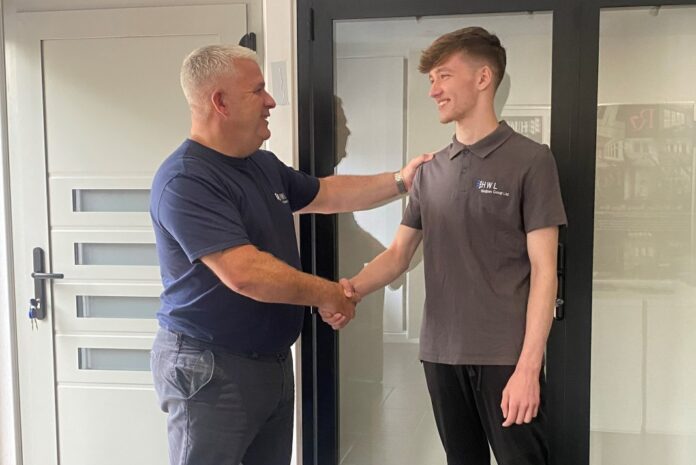 HWL Windows has developed a series of college partnerships in order to recruit high-calibre engineering students into the window and door industry. After HWL's support for the Leeds Manufacturing Festival, the specialist fabricator of flush products has formed new partnerships with Leeds City College (LCC) and University Technical College Leeds (UTC).
As part of the new partnerships, HWL staff are hosting 'manufacturing treks', where students spend a half or full day touring and working in HWL's aluminium and PVC-U factories. The business has also committed to creating a new training centre and student classroom on site.
Phil Gray, operations director for HWL Windows, explained: "The kids get the opportunity to see how we operate and to ask questions in a real working environment. It's been massively successful. They're engaged; they're asking lots of questions; they want to connect with you on social media after they've been. It's like a switch goes on."
HWL's manufacturing school aims to give students the opportunity to learn about the principles of manufacture from from product design to installation. This includes manufacture of aluminium and PVC-U windows.
Phil added: "It's about hands-on experience: showing them what goes into a product they fabricate, then going back to the UTC facility where they are being taught about how to install it." HWL has also committed to creating new apprenticeships, offering students the opportunity to gain a formal qualification in fabrication.
HWL took the decision at the end of last year to drop manufacture of 'standard' product, focussing instead on the manufacture of specialist products. This has built around Timberweld, which it used in its pioneering development of a non-glass-bonded 90° jointed R9 window in 2017, replicating a traditional 90° mechanical joint on both sides of a welded sash, also offering an R9 open-in door and R7 in a Timberwelded format. The move also saw HWL add the Sheerline Prestige Aluminium to its offer, as well as its complete casement range.
Of the business' decision to partner with local colleges, Phil said: "When you're going through a recruiter, you're scraping the bottom of the barrel. You don't get people who want to do the role. With what we're doing now, we're getting people with an interest in engineering. They're coming to us and they already know a little bit about processing, manufacture but the biggest thing is they have a positive attitude towards learning. If we can show them how to build window and get them out onto the factory floor, we're bringing the future leaders of our business into our industry."