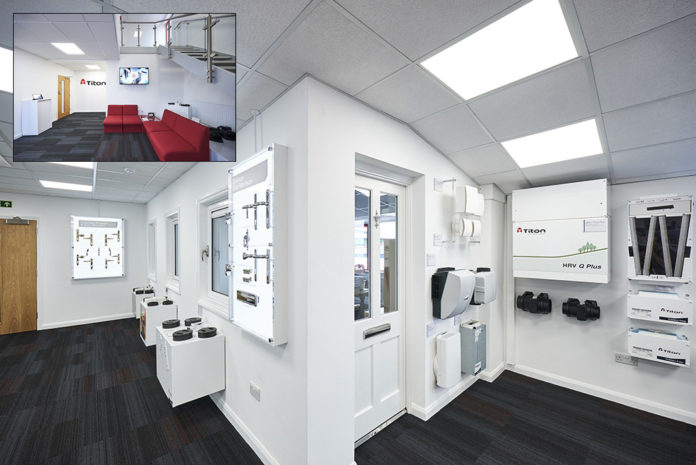 Titon has completed the refurbishment of its state-of-the-art 4.5-acre manufacturing base in Haverhill. The company says that it has invested significantly in modernising the conference and display facilities, as well as the two onsite reception areas.
Changes to the buildings include fresh carpets, ceiling tiles, lighting and stair balustrades, as well as the addition of wall graphics, some featuring an illustrated history of the company. The reception area now boasts a large display running Titon's range of corporate videos.
The main display facility now has all of Titon's products – from both the ventilation systems and window and door hardware sides of the business – mounted on the walls. Ventilation products on show include the award winning Trimbox NO2 Filter, Purge, CME and MVHR units, showcasing the latest range of systems available. In addition, there are backlit boards containing trickle ventilators, window and door handles, hinges and other hardware, allowing Titon to demonstrate its full capabilities to customers in a new, interactive environment.
Elsewhere, the exterior of the conference facilities building has been refurnished, while the main meeting space has been enhanced with a video display, multipurpose tables and corporate-coloured seating. Lounges for customer meetings have also been added to its reception areas.
Tyson Anderson, sales and marketing director at Titon, said: "The renovation of our facilities at Haverhill is a reflection of our ongoing commitment to improving how we present the company and interact with customers.