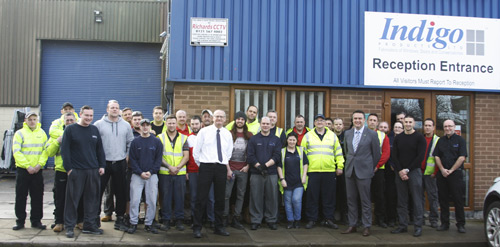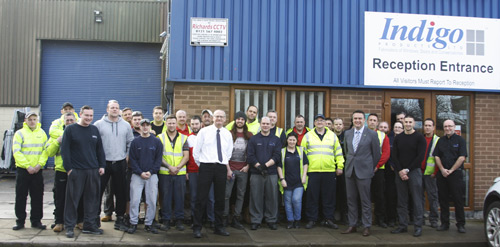 Fifty-five employees at Epwin Group company, Indigo Products, recently achieved their NVQ level II certificates in either 'Fabrication of Glass Supporting Structures' or 'Glass and Glass Related Distribution and Warehousing'.
The Walsall based business ran the scheme over a 12-month period using the SFA funded apprenticeship route, in collaboration with a GQA approved centre – The Vocational College, which provides a range of industry glazing qualifications, written and awarded by awarding body GQA Qualification.
The scheme ensures staff benefit from the fundamentals of maths and English, as well as gaining a recognised glass and glazing industry qualification. The programme consists of online training, regular face-to-face group sessions and one-on-one mentoring for additional support.
Stephen Faulkner, general manager at Indigo Products explains: "We are totally committed to our team and we think it is important to not only provide jobs, but actually provide a career-based occupation. By achieving the qualifications; the team now understand the need to provide a higher level of quality work, at the same time as enhancing their own careers in the future – with many fenestration companies now recognising the qualification through the promotional efforts of GQA and associated centres."
He continued: "Our staff have been great and they have all shown a lot of hard work and determination to achieve the qualifications and enhance their skills on the way to becoming a highly skilled workforce. We also owe a lot to The Vocational College for their commitment, enthusiasm and adaptability throughout the process, helping our team to achieve what they have."
Paul Gray, business development manager at The Vocational College was in attendance to present the certificates. He commented: "It is a huge achievement and every one of the employees should be very proud of what they have accomplished. Any training programme has its challenges but this group has committed to learning from the start, and will inevitably benefit now and in the future."