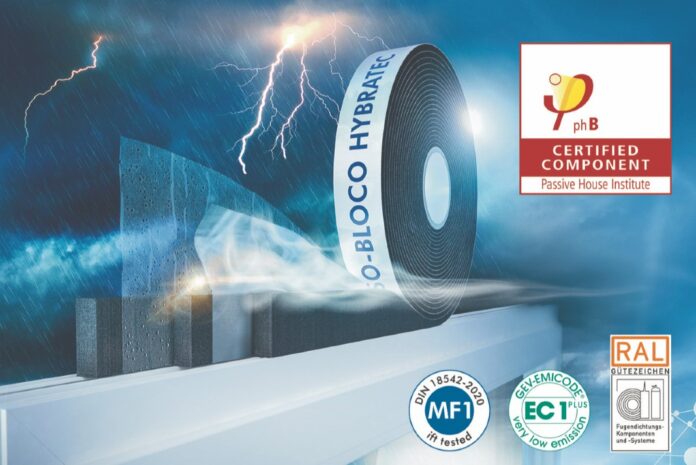 ISO-Chemie has secured an international energy-efficiency certificate for its ISO-Bloc Hybratec joint sealing tape. The Passivhaus Institute in Darmstadt, Germany, awarded the product its 'Certified Passive House Component' label, which means that the tape can now officially be used in the construction of passive energy houses across the UK and Europe, as a window connection air tightness system. ISO-Chemie produces foam sealant tapes for windows and doors. It is one of Europe's main producers of impregnated foam sealants, specialising in the manufacture of foam products from polyethylene (EPE), polypropylene (EPP) and polyurethane (PUR).
In passive house construction, buildings must be extremely air tight to minimise heat input required to warm the house. ISO-Bloco Hybratec is a multi-functional window joint tape that its manufacturer says features the latest in hybrid technology. It reportedly provides effective three-level sealing in line with RAL energy performance standards, and resistance to driving rain in excess of 1050 Pa.
In tests, the tape was found to have excellent air tightness and thermal protection between an inner room and external climates, ISO-Chemie's representatives have said. Uncontrolled convection heat losses and draughts via the connection joint can be effectively eliminated, they say, which is an important requirement in energy-saving construction. ISO-Bloco Hybratec also combines expansion force with functional reliability, to absorb the long-term movement and expansion of windows.
Andy Swift, ISO Chemie's sales and operations manager, said that the achievement reinforced the product's outstanding thermal values, ensuring its advantages for passive energy installations. He added: "ISO-Chemie has a strong commitment to providing customers with high-quality, innovative products, so passive house certification for ISO-Bloco Hybratec is another significant achievement and step forward for us."
Passivhaus-certified products provide high energy savings combined with enhanced comfort compared to conventional new builds and renovated properties. This requires the use of particularly energy-efficient components, in addition to careful and detailed planning.
As an independent body, the Passivhaus Institute tests and certifies products with respect to their suitability for use in passive energy houses. Products bearing the 'Certified component' quality seal have been tested against standardised criteria, have comparable characteristic values and offer excellent thermal quality.