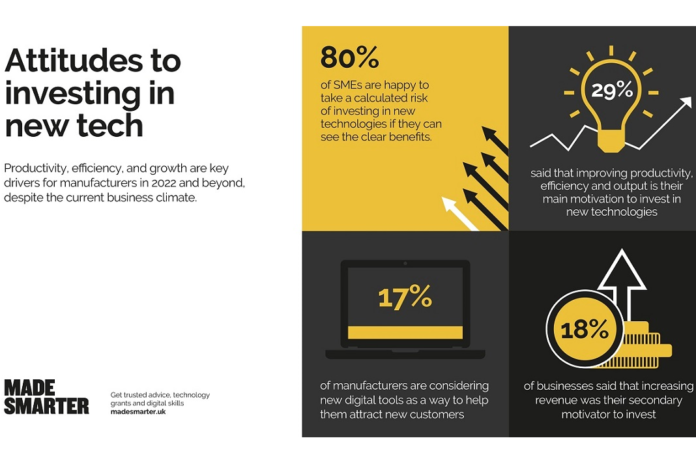 38% of small-to-medium-enterprise (SME) manufacturers have plans to invest in or adopt new technology in the next two or three years, a survey of around 200 SME manufacturers in the north west indicates. The survey's instigator – Made Smarter, a movement aiming to connect UK manufacturing industries to digital tools – is encouraging SME manufacturers to accelerate technology adoption, to help the businesses adjust to current economic challenges.
While 35% of SME manufacturers in the north west are focussed on survival after a turbulent few years, achieving growth by improving productivity and adopting digital technologies are key drivers, findings from the small survey suggest. . One in three respondents reported that their latest business strategy included integrating digital technology or a roadmap towards automation.
The survey results also indicated that manufacturing leaders are exploring a range of technologies to revolutionise the way they make and distribute products. Almost half expressed an interest in data and systems integration technologies. Two-thirds were considering industrial machinery, robotics and automation, according to the survey findings.
29% of SME manufacturers in the north west cited productivity, efficiency and output as key drivers for this year and beyond, despite the current business climate. Increasing revenue (18%) was the secondary motivator to invest in new digital tools, followed by attracting and winning new customers (17%).
While 80% of manufacturing leaders expressed a clear understanding of the benefits of investing in new technologies, two in five used the survey to say that a lack of time and capital held them back from investing. The survey also revealed a fragmented awareness of the available business advice and support, according to Made Smarter.
Donna Edwards, programme director for the Made Smarter adoption programme in the north west, said: "SME manufacturers are aware that technology brings significant benefits. But it is also clear that they need support and advice to create a roadmap to digital transformation, to enable them to adopt the right digital tools, progressively and sustainably, [and] to avoid risking wasted time, money and effort.
"Digitalisation is the key to UK manufacturing's post-covid survival, recovery and growth. With new challenges at our door – such as rising energy prices, supply chain disruption and labour shortages – now is the time for business leaders to reach out and take advantage of the support on offer."