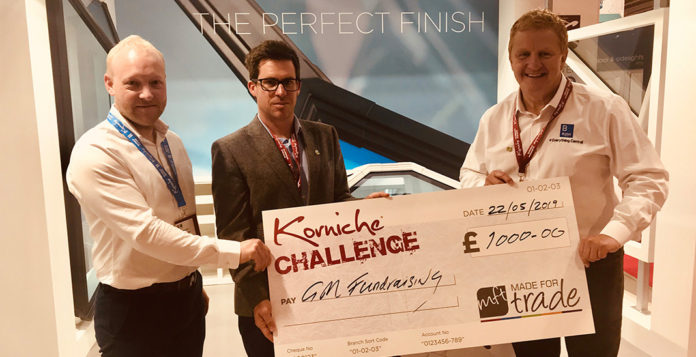 A team from GGP Magazine fought off challengers from the glazing industry trade press to win Made For Trade's Korniche Challenge at the FIT Show last week. The prize money of £1,000 was donated to GM Fundraising and presented to Gary Morton of GMF on Made for Trade's stand.
Made For Trade originally set up the competition as a challenge for installers who were visiting the FIT Show, with prize money for whoever was able to assemble the company's award winning aluminium Korniche roof lantern the quickest. However, for 2019, Made For Trade opened a separate competition for the industry trade press, with GGP editor Luke Wood and former deputy editor Sophie Stevens, ultimately claiming the top prize.
In addition to its Korniche Challenge, Made For Trade also unveiled a pre-production version of a new aluminium Korniche bi-fold.
Chris Wann, business manager at Made For Trade, commented: "When it came to designing the new Korniche aluminium bi-fold, we used the same approach as the roof lantern. We went back to basics, threw the bi-folding door design guide out of the window, challenged the industry norms and put together an entirely new system with all the features and USPs we'd like to see in a class leading product.
"We've taken into account the needs of the consumer, the installer, the reseller and also the manufacturer, to ensure that the end result has maximum appeal to the whole supply chain and can stand side by side with the lantern as the 'go to' product in its category," explained Wann.