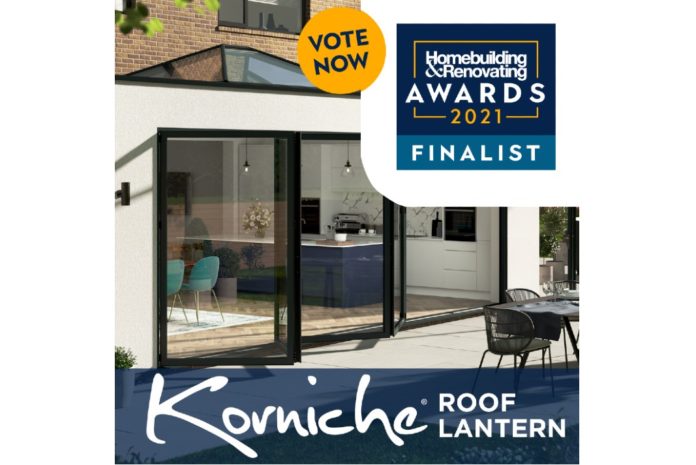 The Korniche roof lantern, created by fabrication specialists, Made for Trade, has been shortlisted for the 'Best Roof Lantern Supplier' award, as part of the Homebuilding and Renovating Show Awards 2021. The product won 'Best Rooflight Supplier' in the 2020 awards scheme, so Made for Trade hopes to replicate success for the second year in a row.
Winners of the 2021 Homebuilding and Renovating Show Awards, sponsored by Korniche, will be announced on 1 July, ahead of the Homebuilding and Renovating Show in Birmingham's NEC, from 8 July. The awards scheme has over 20 categories, including Smart Home Supplier of the Year — a new category for 2021. Public voting for the 2021 awards began on 24 May. Click here to cast your vote.
"It's amazing to be shortlisted in consecutive years, and shows how much impact the Korniche Lantern has made," said Ian Bousfield, Made for Trade's marketing design manager. "The product's engineering, design and aesthetics have great appeal for both the trade installer and the homeowner. We are looking forward to being allowed back out at the shows, not least with our #FitShow family in September.
"If builders, installers and architects are left in any doubt about which lantern product to specify for flat roof extension projects, the Korniche Roof lantern is the solution. Standing head and shoulders above its peers, it is the go-to lantern homeowners are looking to add to their build.
"The Korniche team will be back at the Homebuilding and Renovating Shows this year, starting on 8 July at Birmingham's NEC. We are encouraging our trade customers to come along, as Made for Trade will be unveiling – for the first time – new Korniche aluminium bi-folding doors! Email marketing@madefortrade.co to book an appointment with one of the team for a showcase, and find out why these bi-folds will be the game changer for bi-fold door installation."