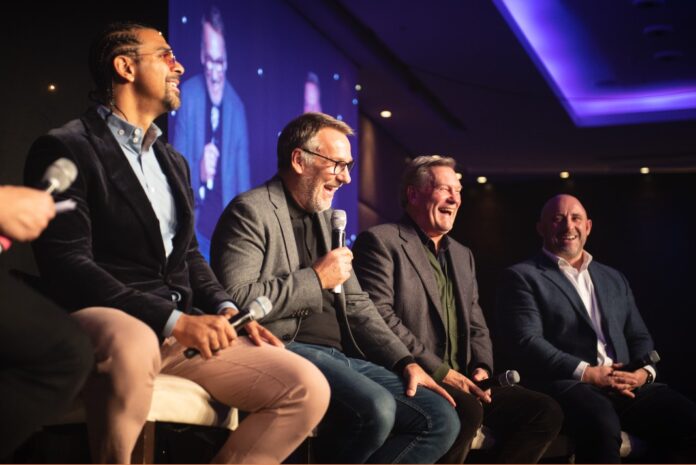 This year's Christmas lunch and networking event organised by the Lighthouse Construction Industry Charity has raised £224,000 to enable lifechanging support for workers' wellbeing. More than 900 guests from multiple sectors of the construction industry attended the event, which took place at the Westminster Park Plaza, London, on Friday 2 December.
The radio and television presenter Pete Graves MCed the event, introducing special guests that included football legends Glen Hoddle and Paul Merson; the ex rugby player and presenter, David Flatman; boxer David Haye; and opera singers, Damian Carter and Alexander Wall. The sporting celebrities shared their experiences with poor mental health, illness, addiction and injury, though each dealt with the subjects with plenty of humour, explained Charissa King, editor of Glass and Glazing Products (GGP), who attended the event.
"The celebrities were excellent value, highlighting ever-present challenges that many face within the sporting and construction industry worlds alike. It was no wonder that they all received a standing ovation after their engaging panel discussion," said Charissa. "Congratulations to the incredible Lighthouse charity team for another greatly successful event."
Bill Hill, CEO of the Lighthouse Construction Industry Charity, said: "We are always amazed at the generosity of our supporters, particularly during these difficult times. 'Thank you' never seems enough, but that support means that we can literally change and save people's lives and that is truly humbling.
"Next year we have big plans to ensure that everyone can reach out for support through our 'Make it Visible' campaign. Our on-site team will be visiting more locations to help spread the word about out vital services.
"Each year we do more and more for our community but that is only possible with the dedicated and unerring support we receive. I would also like to take this opportunity to thank all the volunteers that helped on the day and our sponsors who make these events possible."
Catch up on our editor's interview with Bill here. If you or anyone you know is struggling, reach out for free and confidential support using the Lighthouse charity's 24/7 Construction Industry Helplines: 0345 605 1956 (for people in the UK) and 1800 939 122 (for people in the Republic of Ireland). You can also text HARDHAT to 85258 (UK) or 50808 (ROI), and visit the charity's website.