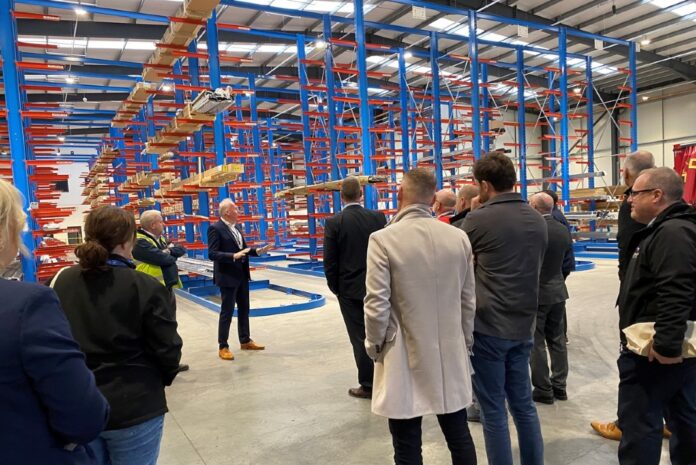 Representatives of Reynaers Aluminium UK welcomed architects, fabricators and installers to a series of 'innovation days' last month, aiming to showcase the business' products and plans for the future. The events took plance at Reynaers' UK headquarters in Birmingham, where attendees were offered an insight into key developments, including how the business is embedding digitalisation across its operations to support the value chain and improve efficiencies.
One of the sessions led by Reynaers' experts looked at the evolution of some of the company's most popular products and systems. Another focussed on the company's approach to sustainability, providing an insight into its Reynaers Act strategy for reduce environmental impact (the business has signed up to the Science Based Target initiative and has committed to cutting energy emissions ahead of net zero in 2050.)
A tour of Reynaers' newly opened warehouse extension was offered to visitors attending the innovation days too. The extension brings Reynaers UK' warehouse facility to 95,000ft², which allows the business to hold greater stock and minimise the impact of supply issues affecting the market. The move is said to have also enabled the business to meet growing demand for its products and systems by providing a 46% increase in capacity.
As well as dedicated sessions and the warehouse tour, visitors were given an insight into some of the latest product developments at Reynaers, and were shown around the newly updated showroom. The event also highlighted the part that digital innovation will play in the future at Reynaers.
Richard Hall, managing director of Reynaers UK, said: "Customers are at the heart of Reynaers' approach and innovation allows us to meet and exceed expectations. We focus on identifying and meeting future trends along with enhancing the customer experience by upgrading products in line with our environmental targets, simplifying installation and making sure we offer cost-efficient products.
"The Innovation Days provided a great opportunity to allow our customers an insight into future developments and to share with them first-hand how improvements and upgrades can benefit their business." Read more about the business online at reynaers.co.uk. The business was recently nominated for a G22 award.