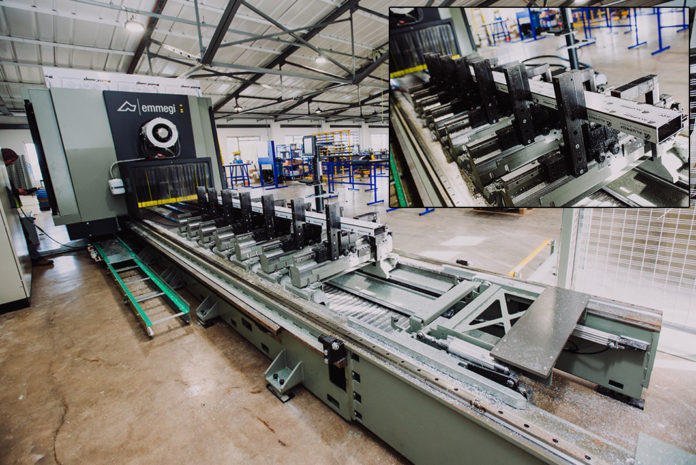 When Clarke Facades in Ballymena opened a dedicated fabrication side to their business last year, the company said that it chose an Emmegi Satellite XT 5 axis machining centre to give it the performance and capacity it needed to match its ambitions.
The company said that it wanted to be able to manufacture more of the curtain walling and bespoke architectural elements, which it installs on large scale building envelope projects across the UK and Ireland; and was doubling the fabrication capability of its new Clarke Offsite division to keep pace with 'very significant' growth.
Six months after the machine installation, the heavy duty 10.5m Satellite XT is reported to be proving the ideal choice. According to Clarke Facades, it can efficiently cut and prep profiles on a single machine and, crucially, can accommodate the complex, oversized curtain walling profiles which Clarke uses on many of its projects.
It also has a mobile gantry on the 10.5m long bed which allows the positioning of the clamps to be done separately, optimising production efficiency by enabling different workpieces to be machined at the same time in two work areas, or one end loaded and unloaded while the machine is operating at the other.
The durability and robustness of the Emmegi model in use has particularly impressed Clarke Facades, as has the advice, support and training available from the Emmegi sales and engineering team, who are based in Ireland.
Dariusz Nawojczyk, glazing division manager at Clarke Facades, commented: "Our investment in the Satellite XT is enabling us to employ more highly skilled workers and offer a better service to our clients. It has cemented our position in the market and is helping to sustain our continuing growth.
"The presence of the locally based team is really helpful, and we are very satisfied that we chose the right machine from the right partner."