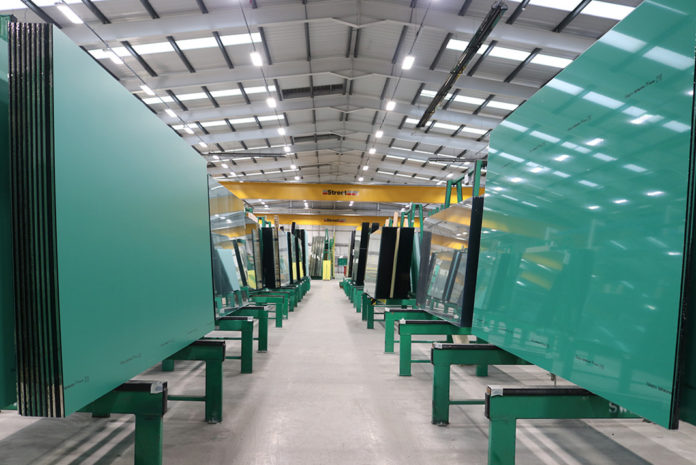 Mackenzie Glass has reported growth in turnover at 20% in its first full year trading under its new management team and as part of the newly created Cornwall Group.
The independent glass merchant also said that it had seen a 'modest return to profit', attributing growth to increased demand for laminates and the expansion of its product range, including the launch of a second line of fire-rated products.
Mark Herbert, joint managing director, Mackenzie Glass, said: "We started off in 2017 with a business that was turning over around £5million a year. We've taken that so that in June at the end of our financial year our turnover was topping £6million.
"We've picked up some new customers along the way but for the most part growth has been driven by the expansion of our product range.
"This has included increased supply of cut-to-size laminate and our new partnership with Pyroguard, which gives us a second leading fire rated glass range, in addition to our offer from Pilkington."
Mackenzie Glass was formed at the end of 2017 as a stand-alone business and vehicle for the acquisition of Pilkington Bristol from NSG.
It supplies more than 300 tonnes of glass each month. This includes a range of products from Pilkington as a Pilkington Regional Partner, plus as an independent merchant, other float glass suppliers including Saint Gobain, Guardian, AGC and most recently, Pyroguard.
Acquisition has been followed by an investment programme which has included the expansion of its product and service offer; the purchase of a new fire saw, CNC, specialist lorries as well as major investment in new IT infrastructure and its apprenticeship scheme.
Its headline investment programme has included the purchase of a new Bottero 515LAMe laminated glass cutting table, delivered in July 2018 with an accompanying loading table, which gives Mackenzie Glass the capacity to handle 4.5m x 3.2m laminated sheets.
"It's not just the capacity that the Boterro gives us," continued Mark. "It's also the reduced heat up times – these are 90 seconds compared to 8-minutes before – which allows us to bring more flexibility to and to reduce our lead times.
"We also introduced the capacity to cut fire glass in-house, which has also reduced lead times, which has proved important with the addition of Pyroguard to our offer.
"We're fiercely proud of our relationship with Pilkington. Pyrodur and Pyrostop are market leading ranges. The addition of Pyroguard, however, gives us a broader reach and the ability to supply a second market-leading brand."
Glass shortages in the last 12-months also according Mackenzie Glass further buoyed its growth. "We were largely unaffected because of the relationship that we have with Pilkington and other leading glass suppliers this helped us to resist the need to follow other independent merchant and import glass from non-European suppliers.
"The first half of this year so far has been perhaps a little tougher and clarity on the UK's future relationship with Europe is now desperately needed.
"I'm confident, however, that we have the right infrastructure and people in place – and hopeful, that when that clarity comes, it will release a latent demand for product."